12 Recent Kanye West Quotes That Show Yeezy Might Be Having a Breakdown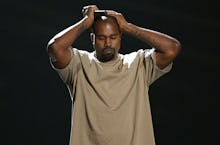 Matt Sayles/AP
Kanye West has been having quite the wild ride, releasing The Life Of Pablo aka the "best album of all time" alongside Yeezy Season 3 at a sold-out Madison Square Garden. With an unprecedented amount of attention toward his career and personal life, the extra ego trip might just be catching the best of Yeezy himself — which is alarming, to say the least. 
In reality, it's all quite a lot for one man to handle: an 18-track record streamed over 20 million times; a coveted fashion line with Adidas, now with three installments and a variety of sneakers and boots, all designed by West; a two-part performance with entirely new music on Saturday Night Live. The New York Times even profiled Yeezy's past seven days in an article titled "The Week in Kanye West."
Read more: Who's Pablo? The Meaning of 'The Life of Pablo,' Kanye West's Album Title
The man, the myth and the Yeezy typically remains rather elusive on the web, only speaking up on Twitter to promote fellow artists' albums and mixtape releases. However, with all of the energy and press surrounding West's recent releases, it appears as though the "Ultralight Beam" rapper is either having a nervous breakdown or subjecting his fans and reporters to cruel and unusual punishment for further promotional purposes. 
Even Rhymefest — who helped the star create one of his biggest hits to date, "Jesus Walks" — stopped working with West. "My brother [Kanye West] needs help, in the form of counseling," the artist tweeted the day after West released The Life Of Pablo. "He should step away from the public and yesmen and heal."
After Rhymefest's foreshadowing tweet, Yeezy upped the confusing rhetoric on Twitter, posting a series of tweets critiquing several societal issues, then claiming he's $53 million in debt. 
Below are some of West's most confusing recent statements that are leading even Yeezy's biggest fans to question his sanity. Some may not be outlandish or absurd, but the general outbursts are beginning to worry many who aren't used to this side of Yeezy.
"Mark Zuckerberg I know it's your bday but can you please call me by 2mrw," West tweeted to the creator of Facebook. Followed by "World, please tweet, FaceTime, Facebook, Instagram, whatever you gotta do to get Mark to support me... Mark, I am publicly asking you for help..."
"On another note, can brah be the girl version of bruh???"
"Yes I am personally rich and I can buy furs and houses for my family, but I need access to more money in order to bring more beautiful ideas to the world." But wait Yeezy, couldn't you just sell some of those houses or furs first?
"If I spend my money on my ideas I could not afford to take care of my family. I am in a place that so many artist[s] end up. Also for anyone that has money they know the first rule is to use other people's money."
"To Pitchfork, Rolling Stone, New York Times and any other white publication: Please do not comment on black music anymore." Pitchfork rated The Life Of Pablo 9 out of 10 stars in its review.
"Pitchfork, the album is a 30 out of 10."
"My dreams brought me into debt and I'm close to seeing the light of day..." Yeezy tweeted talking about the release of Yeezy Season 3, the latest installment of his fashion line with Adidas. "Perhaps Adidas will do some big Lebron style deal or perhaps a fashion group will cover the 53 [million] that I've invested over the past 13 years."
Suddenly followed by, "I don't have to be cool..."
"I have a friend who works really hard and makes $370 dollars a day..." Yeezy, that's roughly an income of $92,500, which is likely more than what most of your fans make in a year...
"A dream of mine would be to do a project where I work side by side with Raf Simmons [sic], Helmut Lang, Vanessa Beecroft and Martin Margiela, all with one purpose of creating beautiful product that can be attainable by everyone... Imagine if the people I named went to high school 2gthr and had a project to do for school..."
"My number one enemy has been my ego... there is only one thrown [throne] and that's God's..."
"I'm practicing my Grammy speech. I'm not going to the Grammys unless they promise me the album of the year!!!" The Life Of Pablo was released just days before the 58th Grammys, obviously missing the nominations cutoff date.
Correction: Feb. 19, 2016