Makana, a Bernie Sanders' 2016 Supporter, Just Spent $11,000 on a Pro-Bernie Music Video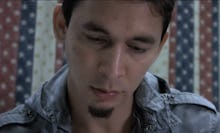 Mic/YouTube
It's no secret who Hawaiian native musician Makana is voting for. The recording artist recently released a music video for his track "Fire Is Ours," which is a political cut that endorses Bernie Sanders for president. And Matthew "Makana" Swalinkavich is feeling the Bern so much that he was willing to spend thousands of dollars to make the song's visual accompaniment, a video that's going viral since being published to YouTube on Feb. 10. 
Speaking to Hawaii News Now, Makana confessed he paid $11,000 out of pocket to make the video because he "became inspired," adding that his end goal for the video is simple. "I hope it gets people to get out to vote, to care, to exercise their democratic right." The video which features the artist play the role of moderator to a presidential debate, as a newscaster and playing a piano engulfed in flames is literally lit.
Read more: World's Most Famous Economist Says Bernie Sanders Could "Change the Face of the Country"
After posting the video to YouTube, Makana told Hawaii News Now that the footage racked up 25,000 views within 24 hours, and the number of video views continued to grow as of Wednesday.
During a Tuesday interview with Fox News, Makana explained he became a Sanders supporter late last year after returning from touring and had a moment to refocus on his music making. "I started to see what was going on and [Sanders'] messaging, and it really resonated with the messaging that I had been singing about for a long time," he told Fox News. "Something that was representing not the corporations and the big banks but the people and really standing up for the diminishing working class."
"And I feel the burn/ For the truth to come across," sings Makana on the track, according to lyrics the artist shared on Facebook. "To melt away the gloss/ And reveal their motivations/ And you'll feel the burn/ For integrity to lead/ To focus on the needs/ Of the People of America." Makana later adds, "The fire is ours/ The hour is now/ The tide is set to turn."
Employing the hashtag #FireIsOurs, users on Twitter responded to the video, and the consensus was largely positive.
"More than just an endorsement of Bernie, it's a commentary that was fueled and inspired by my, really, my disgust with mainstream news, and how they tend to fuel division and distract from the issues that I feel are important," Makana said in his interview with Fox News. "So, as an artist, I don't really consider it getting 'involved in Politics' so much as creating art that is relevant."
According to his biography, Makana is trained as a slack key musician, and his stage name translates to "a gift given freely." This isn't the first time Makana has veered into political territory with his art. In 2011, Rolling Stone called Makana's "We Are the Many" the "Occupy anthem." And according to the artist's bio, the activist has also appeared as a TEDx presenter and has opened for such artists as Sting, Carlos Santana and Elvis Costello. After an invitation from the Obamas, Makana played a live rendition of "We Are The Many" at an APEC World Leaders' Dinner, which the President and first lady hosted in 2011.
Fans of the artist can catch the musician live this spring, as Makana will hit the road for a tour that starts in Tucson, Arizona on March 16 and concludes with a show in Las Vegas on May 7. For more on the tour, head here.