7 Kendrick Lamar Lyrics From 'To Pimp a Butterfly' That Prove He's a Crusader in Rap Music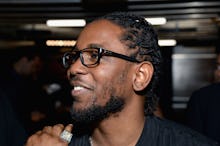 Michael Kovac/Getty Images
Kendrick Lamar hit it out of the park with a show- stopping performance Monday at the 58th annual Grammy Awards. The performance, which many agreed was visually stunning and politically important, was magnanimous for the message it conveyed about race relations in America. And the showing has helped to cement Lamar among an echelon of performers who've likewise released artistry that comments on the state of race relations, Beyoncé among them.
Read more: Kendrick Lamar Just Made a Huge Statement About Black Incarceration at the 2016 Grammys
During his performance, Lamar appeared onstage in chains and a blue prison shirt. As the song advanced, Lamar and a group of black backup dances broke free of their chains. "I'm African-American, I'm African," Lamar rapped during the live rendition of "Blacker the Berry."
"I'm black as the moon, heritage of a small village. Pardon my residence/ Came from the bottom of mankind/ My hair is nappy, my dick is big, my nose is round and wide/ You hate me don't you?/ You hate my people, your plan is to terminate my culture/ You're fuckin' evil I want you to recognize that I'm a proud monkey/ You vandalize my perception but can't take style from me." 
The performance culminated in a bonfire spectacle during which dancers in body paint and grass skirts joined Lamar onstage. It concluded with Lamar standing silhouetted by a projected image of Africa, imposed with the word "Compton," the California city where he's from.
Lamar had an impressive 11 Grammy nominations, and won five, including the award for rap album of the year for 2015's To Pimp a Butterfly, his third album. In honor of his powerful performance and in a nod to the recognition bestowed upon his third LP, here are seven Lamar quotes from To Pimp a Butterfly.
When he evoked Kunta Kinte
"Bitch, where you when I was walkin'?" go the lyrics to "King Kunta." "Now I run the game got the whole world talkin', King Kunta/ Everybody wanna cut the legs off him, Kunta/ Black man taking no losses, oh yeah/ Bitch, where you when I was walkin'?/ Now I run the game, got the whole world talkin', King Kunta/ Everybody wanna cut the legs off him."
When he got political 
"From Compton to Congress, set trippin' all around," Lamar raps on "Hood Politics." "Ain't nothin' new, but a flu of new Demo-Crips and Re-Blood-licans/ Red state versus a blue state, which one you governin'?/ They give us guns and drugs, call us thugs/ Make it they promise to fuck with you." 
On complexion
"Even if master's listenin', I got the world's attention," Lamar says on "Complexion (A Zulu Love)." "So Imma say somethin' that's vital and critical for survival/ Of mankind, if he lyin', color should never rival/ Beauty is what you make it, I used to be so mistaken/ By different shades of faces."
On breaking down barriers
"Knock these walls down, that's my religion," he raps on "These Walls."
When he slung truth
"On how the infamous, sensitive N-word control us," Lamar says on "I." "So many artists gave her an explanation to hold us/ Well, this is my explanation straight from Ethiopia /N-E-G-U-S definition: royalty; King royalty - wait listen/ N-E-G-U-S description: Black emperor, King, ruler, now let me finish/ The history books overlook the word and hide it / America tried to make it to a house divided."
When he mentions Nelson Mandela
"The ghost of Mandela, hope my flows they propel it," goes "Mortal Man." "Let these words be your earth and moon/ You consume every message/ As I lead this army make room for mistakes and depression."
And, finally, when he landed on perseverance 
"We been hurt, been down before," Lamar raps on "Alright." "Nigga, when our pride was low/ Lookin' at the world like, 'Where do we go?'/ Nigga, and we hate po-po/ Wanna kill us dead in the street fo sho/ Nigga, I'm at the preacher's door/ My knees gettin' weak, and my gun might blow/ But we gon' be alright."