Manny Pacquiao Dropped by Nike After Boxer's Homophobic Statements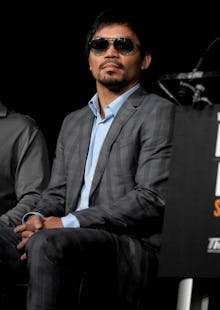 Celebrated Filipino boxer Manny Pacquiao has been handed his most painful loss since the Floyd Mayweather fight.
TMZ first reported that Nike, which has sponsored the boxer since 2006, is severing ties with the PacMan.
In a press release, the company called his comments "abhorrent," according TMZ.
"Nike strongly opposes discrimination of any kind and has a long history of supporting and standing up for the rights of the LGBT community," reads the release.
Pacquiao, who has flirted with running for Philippine president, came under fire after comments he made on local television where he said gays were "worse than animals."
"The animals are better. They know how to distinguish male from female," Pacquiao said, according to an earlier TMZ story. "If we approve [of] male-on-male, female-on-female, then man is worse than animals."
The boxer later apologized for any feelings hurt, but notably did not delete a previous tweet citing a Corinthians passage from the Bible, frequently referenced by anti-gay activists. 
"I'm sorry for hurting people by comparing homosexuals to animals," he tweeted in his apology. "Please forgive me for those I've hurt."
Feb. 17, 2016, 3:19 p.m. Eastern: This story has been updated.