Tom Hardy's 5 Best Roles That Didn't Earn Him an Oscar Nomination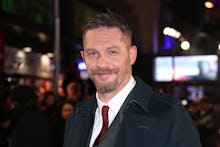 Joel Ryan/AP
Tom Hardy is nominated for best supporting actor at this year's Academy Awards for his role as John Fitzgerald in Alejandro González Iñárritu's The Revenant – opposite best actor frontrunner Leonardo DiCaprio. Hardy has been praised by the Hollywood Reporter's Todd McCarthy for depicting a "genuinely disturbing character whose primary trait is untrustworthiness on a psychotic level" that "far exceeds the basic requirement this role... portray[ing] a man so despicable that the audience desperately wants to see him get his just desserts."
Surprisingly, despite being an esteemed, versatile and consistently working actor both in film and television, Hardy's role in The Revenant is his first to be nominated for an Oscar. Here are five earlier film roles of his that should have received more award season traction.
Related: Why 'Mad Max: Fury Road' Should Win Best Picture at the Oscars
Bronson premiered at the BFI London Film Festival in 2008 before receiving a wider release in 2009, and Hardy's breakout role was his portrayal as the titular Charles Bronson – one of Britain's "most notorious inmates."
The Los Angeles Times' singled Hardy out for "propelling the wildly riveting" film, praising him for how he "chomps down on his once-in-a-career role with stunning ferocity and never lets go."
Roger Ebert took note of Hardy's "raw physicality," saying his "hurtling himself into half a dozen guards, heedless of pain or harm... must hurt him, because it makes us wince to watch."
Warrior centers on two estranged brothers, played by Hardy and Joel Edgerton, whose paths intertwine via mixed martial arts. Though many reviews, like the Hollywood Reporter's Kirk Honeycutt, single out Edgerton for being the "more nuanced character" of the two, Hardy's foil to Edgerton's character proves vital to their characters' dynamic.
Variety's Joe Leydon praised Hardy for being "arrestingly intense," going so far as to say his portrayal was reminiscent of "the bruised and brooding virility of a young Marlon Brando." A.V. Club's Alison Willmore praised Hardy for being "riveting [as] a little boy lost with the hulking build of a minotaur" who "[spoke] volumes with his fists."
Despite limitations stemming from his mask muffling his speech, and despite nearly insurmountable expectations after Health Ledger's Oscar-winning role as The Joker in The Dark Knight, Hardy does a memorable job of playing Bane, the villain in the tertiary film of Christopher Nolan's Batman trilogy. 
Todd McCarthy praised Hardy for his ability to "express himself mostly through body language, which he does powerfully" as well as "at a couple of key moments [when] his eyes speak volumes." Variety's Justin Chang noted the aforementioned post-Ledger expectations, praising Hardy for portraying "a creature of distinct malevolence." The Los Angeles Times' Kenneth Turan also noted Hardy's portrayal of Bane only worked due how to the actor "carried his imposing physical bulk" – all 30 pounds of muscle Hardy gained for the role.
Described by Variety as an "ingeniously executed study in cinematic minimalism" the duration of Locke mostly sees Hardy in his car, driving and making phone calls. However, it is this basic premise that allows Hardy's acting to be showcased without any impediments. The New York TImes' Manohla Dargis applauded the choice to cast Hardy, saying faces like his "appear to express a coherent story, from their sensuous mouth to their searching eyes" before praising Hardy for being a "gifted chameleon" who uses his eyes and facial gestures to movingly draw viewers in. The Wall Street Journal's Joe Morgenstern described Hardy's performance as "spellbinding, seductive, heartbreaking, explosive and flat-out thrilling."
Hardy held his own in The Drop despite acting alongside the late James Gandolfini. In his review for Variety, Justin Chang praised Hardy's "skillfully restrained performance," implying that, beneath the thriller's plot twists, the film's most potent "reveal" is that Hardy can act. The Telegraph's Tim Robey singled Hardy out for how his subdued characterization "sneaks up on you" describing it as the actor's "most Brando-esque performance to date." Salon's Andrew O'Hehir wrote that although "Hardy's Brooklyn accent feels a little studied, he's such a powerful physical actor that he commands the screen anyway."
Max Rockatansky was Hardy's other high profile role in 2015. From a narrative point of view, stemming from the character's role in the franchise, Hardy is technically the protagonist in George Miller's critically acclaimed reboot. However, Hardy's role in Mad Max: Fury Road, while serviceable, was relegated to subsidiary status due to the wildly praised and flashier roles of Charlize Theron's Imperator Furiosa and Nicholas Hoult's Nux.