Russian Ad Claims "Smoking Kills More People Than Obama"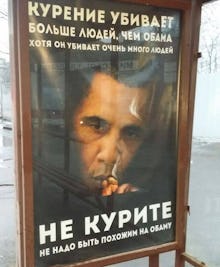 A new anti-smoking campaign is urging Russians to give up their cigarettes with this compelling line:
"Smoking kills more people than Obama."
The ad, which has been popping up at bus stops across Moscow, elaborates: "Smoking kills more people than Obama, although he kills lots and lots of people," the ad reads. "Don't smoke, don't be like Obama."
The Centers for Disease Control and Prevention estimates that tobacco use kills nearly 6 million people a year. 
Russian MP Dmitry Gudkov, who represents the entire liberal opposition in the Kremlin, posted an image of the ad to Facebook on Tuesday, saying it's "disgusting and embarrassing that this is appearing on the streets of the Russian capital." 
Read More: There's a Real Life Russian Spy Thriller Going on in Russia and It's Better Than Your Airport Read
It was not immediately clear who is behind the ad campaign, though, according to the Guardian, the anti-smoking campaign has parallels with a YouTube video uploaded Friday, showing hundreds of Russian students collapsing to the ground as if dead. The video, which shows a woman holding a sign saying the "president of the United States kills 875 people every week," is rumored to be linked to Russia's ruling United Russia party, which backs President Vladimir Putin.
The Moscow Times reported Friday on the release of a video showing Russian university students demanding the United Nations take action against President Barack Obama for "the thousands of lives he has taken."
Tense disagreements over NATO opposition to Russia's annexation of parts of Ukraine, as well as conflicts over how to handle the Syrian civil war, have driven U.S.-Russia relations to a decadeslong low. Russian Prime Minister Dmitry Medvedev recently referred called it a "new Cold War." 
While the White House officially claims Obama quit smoking years ago, evidence he may continue to indulge at least every once in a while has popped up on the Internet and in media reports.
But chances are that whoever made the ads didn't have Obama's health in mind.