Clapback Queen Zendaya Fires Back at Her Mullet Critics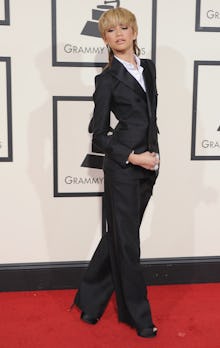 When Zendaya walked the Grammy red carpet on Monday rocking a mullet, we anticipated that the haters might be vocal. But we also knew that Zendaya, the queen of the clapback, would be able to handle them appropriately, whether it is in a searing Tweet or an Instagram takedown. 
And boy, were we right.
Zendaya took to Instagram on Tuesday and posted a picture (sans mullet) with the caption, "Please, mullet or no mullet you know I'm still gon be your WCW tomorrow."
In just one post, the most poised, 19-year-old singer/actress Hollywood has to offer proved yet again she can more than hold her own against tireless trash talkers — especially when it comes to appearance, and especially when it comes to hair.
Remember the time she hit the Academy Awards red carpet in 2015 in a white Vivienne Westwood gown and long dreads, and the next day on Fashion Police, E! correspondent Giuliana Rancic said Zendaya probably walked down the carpet smelling like "patchouli" and "weed"? 
The statement caused an uproar within the E! network and online, where Zendaya's fans took to Twitter to call out a double standard when it comes to women of color and their hair. 
Shortly afterward, Zendaya issued a lengthy statement of her own, eloquently explaining why Rancic's comments were not only offensive, but unnecessary.
(By the way, that headline-making look is now memorialized forever in the form of a Barbie doll.)
Then, there was that time in June when she wore a short pixie cut to the BET Awards and faced harsh criticism from internet trolls. Her genius clapback:
In several more instances, Zendaya has taken it upon herself to defend others too. In June, she came to the aid of a woman who was getting ridiculed online for her supposedly "misleading" photo of herself with and without makeup. 
And in October, she shot back at a magazine that Photoshopped her beyond recognition on Instagram, captioning a before-and-after image with, "These are the things that make women self-conscious, that create the unrealistic ideals of beauty that we have." 
Where does Zendaya keep getting the inspiration and tenacity to defend her looks and wear whatever the hell she wants? As we learned this week, she's actually taken some inspiration from fellow style risk-taker Cher. The two chatted for the latest issue of Paper magazine, talking about creativity and self-expression on the red carpet. 
As Zendaya told Cher, "I go out there and I wear what I want to wear, with nobody in mind but how I feel when I leave the house." 
Cher, in response, said, "When you think you look beautiful, you come out with a kind of glow and a confidence, so it's a tool."
Clearly, these two women have got it figured out.