20 of the Best Wedding Songs for Your First Dance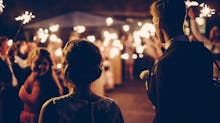 Unsplash
When it comes to a wedding, no amount of time, planning or research can possibly prepare a couple for their special day. One of the best moments of a wedding day, when it would seem all the worries of putting together a perfect day for friends and families magically disappears, is the first dance.
Read more: Meet the Woman Making Sure Plus-Size Brides Get the Wedding Inspiration They Want
The dance marks the first moment the couple comes together to celebrate their marriage hand-in-hand. So, not to add any to an already-overwhelming list of to-do's, choosing the perfect song is an important step in making the experience all the more memorable.
Luckily, there are a variety of songs to choose from if you and your beau don't happen to already have a favorite song together. Here are some of the loveliest, gushiest, corniest and most heartwarming songs to enjoy your first dance with your partner on your special day:
"That's How Strong My Love Is," Otis Redding
"Let's Stay Together," Al Green
"If I Ain't Got You," Alicia Keys featuring Usher
"Come Rain or Come Shine," Ray Charles
"Can't Help Falling in Love," Elvis Presley
"By Your Side," Sade
"At Last," Etta James
"As," Stevie Wonder
"Your Song," Elton John
"Wild Horses," the Rolling Stones
"You Are So Beautiful," Joe Cocker
"Sparks," Coldplay
"Ho Hey," the Lumineers
"Wonderwall," Oasis
"You Are the Best Thing," Ray LaMontagne
"Baby I'm Yours," the Arctic Monkeys
"Stand By Me," Ben E. King
"Wonderful Tonight," Eric Clapton
"I've Got the World on a String," Frank Sinatra
"When We Were Young," Adele