A Disturbing Viral Video Is Shedding Light on the Reality of Child Brides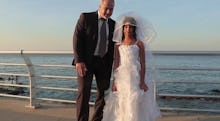 A YouTube video campaign going viral this week is drawing attention to a grim reality in some parts of the world that we don't often hear about: child brides.
In the staged clip, a 12-year-old girl is seen wearing a wedding gown and standing on a waterfront boardwalk beside her soon-to-be-husband, a balding, middle-aged man decades older than her. As the pair poses for wedding photos, they draw attention from disgusted strangers in the crowd.
After some adults admonish the man for being a predator, he tells them, "I took the permission from her parents."
In this case, the bride and groom are just actors, and the waterfront wedding is fictional. Yet the video is intended to highlight a situation that's a reality for many young women all over the world. 
The video was produced by the organization KAFA ("enough" in Arabic), which aims to put an end to the practice of child marriage in Lebanon.
According to the United Nations Population Fund, the prospect of being forced to marry a man before the age of 18 is a sad reality for 1 in 3 girls in low- and middle-income countries.
"Each year, nearly 15 million girls, some as young as 8 or 9, are forced into marriage worldwide, many to men who are, like KAFA's fake groom, decades their senior," the organization writes on its website. "If current trends continue, an additional 1.2 billion girls will be forced into child marriage by 2050."
In an effort to draw attention to this issue, actress Ashley Judd recently penned an op-ed for the Guardian leading up to Valentine's Day.
"[O]n 14 February, about 37,000 girls will have their bodily integrity and sexual autonomy shattered," the star wrote. "They won't be valentines. They will be child brides. They won't have sweethearts. Many will have adult rapists. They won't have girlish dreams of romance; they will have perpetual hellish trauma."
According to the organization Girls Not Brides, child marriage is a worldwide problem, with millions of child marriages taking place in countries like India, Bangladesh, Nigeria and more. To put an end to child marriage, the organization believes it will require "work across all sectors and at all levels" to "empower girls," "mobilize families and communities," and, of course, implement policy and laws against the troubling practice.
Watch the full KAFA video below and learn more about the organization here.
h/t MSN
Get the five stories that will challenge you to rethink the world by signing up for MicCheck Daily.