Cruz Takes the Lead Over Trump in First National Poll Since South Carolina Debate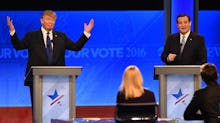 Businessman Donald Trump has lost his national lead over the Republican presidential field, slipping behind Sen. Ted Cruz of Texas, according to an NBC News/Wall Street Journal poll released Wednesday.
In the poll, Cruz claims 28% support, edging out Trump's 26%. Sen. Marco Rubio of Florida sits in third place with 17% support. He's followed by Ohio Gov. John Kasich at 11%, retired neurosurgeon Ben Carson at 10% and former Florida Gov. Jeb Bush at 4%.
Last month, Trump led Cruz 33% to 20% in the poll. That survey was conducted before Cruz narrowly defeated Trump in the Iowa caucuses and Trump bounced back to a resounding victory in the New Hampshire primary.
The new survey is the first indication that Trump may have sustained serious damage as a result of his performance in last weekend's Republican debate in South Carolina, where he aggressively attacked former President George W. Bush over 9/11 and the Iraq War. The poll was conducted between Sunday and Tuesday, entirely after the debate. 
Read more: Winners and Losers at the GOP Debate in South Carolina
Some analysts predicted that Trump's anti-Bush broadsides would undercut his support in South Carolina, whose Republican primary is Saturday and where many GOP voters are military veterans. But the four latest polls of Palmetto State Republicans — all conducted after the debate — show Trump with an average lead of 17.5 percentage points over Cruz, who barely beats Rubio for second place.
Your grain of salt: That's worth keeping in mind when weighing the new national numbers.
Indeed, there's ample reason to view the NBC/WSJ survey with a healthy dose of skepticism. In two other national surveys released Wednesday — conducted partially after the debate — Trump led the GOP field by 15 and 20 percentage points. If the NBC/WSJ poll is the leading edge of a new trend, not an outlier, then Trump has seen a drastic plunge in national support since the weekend, despite surveys showing him unscathed in the state where pundits speculated he would be most harmed.
What's more, the poll includes a higher sampling of "very conservative" voters, a Cruz stronghold, than the previous NBC/WSJ survey did. Re-weighting the poll to reflect last month's sample would give Trump a 26% to 25% edge over Cruz, according to an NBC News release.
Even if Cruz is indeed barreling ahead, his national surge may prove short-lived. Not only is Trump the odds-on favorite to win South Carolina on Tuesday, but Cruz is at real risk of falling into third place behind Rubio. In the RealClearPolitics average, the Texan garners 16.8% support to Rubio's 16.5% — and those numbers don't reflect any bounce Rubio may get from the endorsement on Wednesday of Gov. Nikki Haley, whose support was much coveted. Should Cruz come out of the first Southern primary with only a silver medal — despite a heavily conservative, evangelical electorate that should prove fertile for him — his campaign could be in real trouble.