St. Vincent Designed a New Guitar to Better Fit Women's Bodies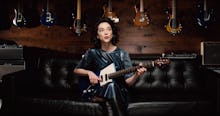 In the indie music scene, which prides itself on having no masters, St. Vincent is a leader. 
St. Vincent, otherwise known by her real name Annie Clark, is the innovative guitarist who's released some of the inspiring and inimitable music of the past few years. Her most recent self-titled "party record you could play at a funeral," as she once described it, won her a Grammy in 2015 for best alternative music album, making her only the second woman to win the award since the category's creation in 1991. 
This coming March, she's about to do something no other woman has done in rock 'n' roll history.
In collaboration with Ernie Ball Music Man guitars, Clark is set to release a new signature guitar. She'll join rockers Joan Jett and Nancy Wilson, two of only a handful of women who have their own signature guitars. But in a historic first, Clark has designed this new guitar entirely from scratch to create one with "smaller people and women" in mind, as she told Guitar World in an article published Sunday. The guitar is lighter, with a narrower and more ergonomic shape that leaves "room for a breast or two," according to her Instagram post.
The guitar weighs only 7 pounds 5 ounces, according to the Ernie Ball website — significantly lighter than many classic guitars such as the Gibson Les Paul, which weigh closer to 9 pounds, sometimes more.
"I would need to travel with a chiropractor on tour in order to play those guitars," Clark told Guitar World. "It's not that those aren't great guitars, but they render themselves impractical and unfunctional for a person like me because of their weight."
To solve these problems, Clark redistributed the guitar's weight to give it a thinner waist and customized every part down to the tuning knobs to keep it light. Every aspect of its design captures this minimal, new wave aesthetic, which fits Clark's music well. She even hand-mixed the guitar's custom color, which Ernie Ball has named "Vincent Blue."
Use of the electric guitar is still far and away dominated by men. It's unclear how much ergonomics stand in the way of girls developing an interest in shredding, versus how much depends on music marketing and a history that tends to highlight male rock icons. That's certainly the case in terms of drummers, to the point that publications like Tom Tom Magazine have sprung up to  female musicians.
"I'm certainly glad to be a beacon for women and for anybody who likes music and my music," Clark told Guitar World. "I'm glad that another guitar exists that is sympathetic to the female form. I'm glad that that exists and I hope that people will enjoy ... that men and women will enjoy the ergonomics. But smaller people and women especially."
She debuted the guitar in front of a mass of Taylor Swift fans at a 1989 tour stop, where St. Vincent was the special guest alongside Beck. She tore out a solo to Beck's "Dreams" in front of huge crowd. Perhaps the next St. Vincent — male or female — was in that crowd looking on, and this Vincent Blue Ernie Ball will be their guitar.