Why LAPD Det. Mark Fuhrman May Have Helped OJ Simpson Get Away With Murder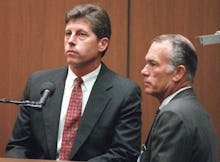 POOL/Getty Images
In episode three of The People v. O.J. Simpson: American Crime Story, viewers watched O.J. Simpson's white defense attorneys exploit the race angle — hard. Although dream team leader Robert Shapiro (John Travolta) doesn't seem to believe that his client is innocent, he is all too happy to learn that the LAPD's lead investigator, Mark Fuhrman, had previously claimed that his work had turned him into a bigot.
"Imagine that O.J. Simpson was set up by the cops because he was a black man and because the LAPD has a systemic racism problem," Travolta-as-Shapiro says, his face suddenly illuminated with fiendish glee.
Read more: 'The People vs. OJ Simpson' Uses Robert Kardashian to Make a Point About the Family's Fame
He then leaks this theory to a New Yorker reporter, carefully noting that any evidence "he [Fuhrman] touches is questionable." Fuhrman, it bears noting, is the officer who found the bloody glove at Simpson's Rockingham estate, the one that linked the former NFL star to the crime scene in the first place. His personal history opened the door to the defense's argument that Simpson had been framed. Because Fuhrman was, by all accounts, a racist. 
As the New York Times reported, the defense was alerted to the cop's background by a lawyer named Robert Deutsch, who said that Fuhrman had "told psychiatrists that he had tortured suspects and hated 'niggers.'" That the prosecution relied on him as a key witness tore a sizable hole in their argument.
In August 1995, screenwriter Laura McKinny testified that she had interviewed the investigator in 1985 and retained tapes of their conversations, during which he used derogatory language when talking about minorities. The transcripts of the so-called Fuhrman tapes were pretty damning evidence of his position on black people. 
Then, in September, the defense called a witness named Kathleen Bell, who told the court that the investigator had used racial slurs and, as the L.A. Times reported, said that he'd like to see all African Americans "gathered together and burned." He echoed that sentiment in conversation with one Natalie Singer, who took the stand after Bell. And according to the L.A. Times, their testimony left a jury that had "become skilled at looking impassive" visibly shocked, "furious" and "disgusted." 
A complicating factor? On March 9, 1995, Fuhrman had testified that he'd never met Bell; on March 15, he told defense attorney F. Lee Bailey that he hadn't used a racial slur in the past decade. So when the tapes came out, the court had proof that Fuhrman had lied under oath and every reason to believe what Bell and Singer had told them. They had every reason to believe that Fuhrman may have tampered with the evidence, even planted the glove at Simpson's home. 
Fuhrman, for his part, pleaded no contest to a perjury charge in 1996. He was not sentenced to jail time, but received three years' probation and a fine. Fuhrman is now a forensic and crime scene expert for Fox News. He does not believe that racial profiling exists.