This Model Just Called Out What It's Like to Be a Woman of Color in the Makeup Chair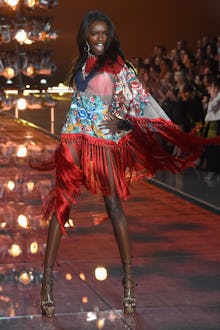 On the fashion runways this season, diversity has been a sticking point. Some news has been good: Earlier this month, David Hart showed his collection on a lineup of all male models of color as a sign of cultural appreciation during men's New York Fashion Week. Just this week, Zac Posen cast a Bethann Hardison-approved runway almost entirely of women of color to debut his fall 2016 wares. 
It's definitely real progress, no doubt indicative of changing beauty perceptions at large. But according to the models of color who are increasingly coming to the forefront, there's a disconnect: The teams behind the looks still aren't always prepared to handle the variety of skin tones they are confronted with.
Read more: This Model Just Reminded Us Why a Lack of Diversity Really Does Matter
"WE NEED MORE MAKEUP ARTISTS AND HAIR WHO ARE COMPETENT WITH ALL RACES BACKSTAGE AT SHOWS" model Leomie Anderson tweeted backstage Wednesday at a fashion show, bringing attention to a sore subject for models of color in the industry. 
Anderson had previously vented her frustrations with hairstylists in October, questioning why some stylists still try to put water on model's hair in effort to get it to "lay down" (which this writer can tell you, as a black boy, does not work).
In July, Sudanese model Nykhor Paul took to social media to voice similar frustrations. "Dear white people in the fashion world!" she said. "Please don't take this the wrong way but it's time you people get your shit right when it comes to our complexion!"
What followed was an open letter that stressed the same points that Anderson pointed out in Wednesday's tweets: Professional artists should be equipped to deal with any and all shades of skin as well as hair textures.
The point is that lip service to diversity needs to be followed with actual change. 
"We're not into just one style anymore," Bumble and bumble global artistic director Laurent Philippon told the Observer backstage at the Brother Vellies show last week. "We've been seeing that at a lot of houses this season; it's all about celebrating individuality..." The stylist, who happens to be white, used models' natural looks and curls as the basis for the showcase
It helps that at shows like Gypsy Sport and Hood by Air, makeup artists kept looks minimal, simply sticking to "retouching pimples and redness" as opposed to coating faces with foundation — foundation that often, according to Anderson and Paul, isn't the right shade in the first place.
For models, a makeup artist who doesn't know what he or she is doing can be a hinderance to your career, as everything is predicated on their look. That means too many models of color still have to lug around their own makeup kits with products suitable for their skin tones. 
In fact, it's such a necessity that Anderson says she has a YouTube tutorial about building a makeup kit coming out soon. 
While she shouldn't need it because of the "professionals" on set, there will be plenty of fans (some of whom may have had their own experiences as women of color) who will want to hear some tips.
Correction: Feb. 17, 2016