How to Listen to Music Offline on an iPhone When You Don't Have Internet Connection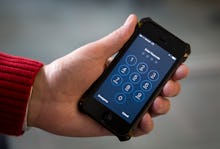 Carolyn Kaster/AP
Listening to music on the streaming music site Pandora, or the video-sharing website YouTube generally has one major drawback: Once the phone service drops, so does the streaming service. However, there are alternatives that allow iPhone users (and others) to listen to music while offline, or in an area with limited phone service. Any of these music streaming services will allow you to listen anywhere you want, without the limitations of the Internet. 
Spotify, a music streaming site that was founded in 2006, allows its premium subscribers to listen to 3,333 songs without access to the Internet. The premium subscription set at $9.99 per month, allows its users to sync music to their phones. 
YouTube Red, a new feature of YouTube, allows its users to save both videos and music offline for $9.99 per month. If subscribers are on the airplane, in the subway, or otherwise without phone service, YouTube Red users are able to save videos for up to 30 days, according to the website. 
Read More: Tim Cook Lays Out Why We Can't Let the Government Erode Our Privacy, Even a Little
Apple Music, the company's newest music streaming service, also allows its subscribers to access their music library without Internet service. "You can download songs, albums, or playlists to your device so that you can listen to them when you're not connected to the Internet," Apple's official site reads, adding a note that users can only "download music up to 10 devices", which is plenty anyway. 
Apple Music provides three steps for users who'd like to access their music without the help of the Internet : Find the music file that you'd like to download, hit the more options icon on the right of the file, and hit the download icon on the right of the file's artwork in order to have the file on your phone for offline use.
There are other apps that allow their users to listen to music offline. An increasingly popular app, Groove, was re-launched in 2015 by Microsoft. "The app is best, however, when you use it with a Groove Music Pass," the Groove website reads. "For a low monthly fee ($9.99), the Groove Music Pass lets you stream and download music from one of the largest music catalogs on the planet."