10 Best Rap Songs of the '90s That Prove It Was the Golden Era of Hip-Hop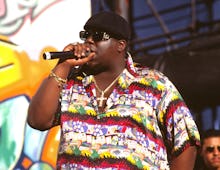 Chris Walter/Getty Images
The 1990s were a golden era of rap music. Rap moguls like Ice Cube and Dr. Dre set the stage in the late '80s for stars like Tupac, Nas, Biggie and Jay Z to emerge full force in the '90s, taking rap music to new heights as a dominant mainstream genre. 
Eclectic rap music blossomed and flourished in the '90s with artists all across the board. Nas' "If I Ruled the World (Imagine That)" featuring Lauryn Hill and A Tribe Called Quest's "Can I Kick It?" have completely different sounds, but you can't not vibe to both. 
Read more: Kendrick Lamar Just Made a Huge Statement About Black Incarceration at the 2016 Grammys
Here are some timeless '90s jams that prove it was the golden era of rap:
"If I Ruled the World (Imagine That)" — Nas
"Can I Kick It?" — A Tribe Called Quest
"California Love" — Tupac Shakur
"Ambitionz Az a Ridah" — Tupac
"Brooklyn's Finest" — Jay Z feat. Biggie Smalls
"C.R.E.A.M." — Wu-Tang Clan
"Gin and Juice" — Snoop Dogg
"Sabotage" — Beastie Boys
"Juicy" — the Notorious B.I.G.
"The Rain (Supa Dupa Fly)" — Missy Elliott