Residents of This St. Louis Suburb Say the EPA Is Ignoring a Looming Environmental Disaster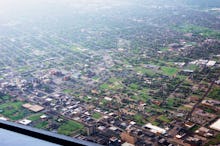 It's pretty much the situation the Environmental Protection Agency was born to battle: a dump full of radioactive waste catching fire. But residents of the St. Louis suburb of Bridgeton say that through inaction, the agency is allowing that to happen.
Up to 200 feet of rotting garbage is slowly burning underground thanks to an uncontrolled fire at the Bridgeton Landfill, resulting in a constant stench. But worse than the smoldering Dixie cups and food waste, the Washington Post reports, is the fire's proximity to the neighboring 200-acre West Lake Landfill Superfund site full of radioactive waste from World War II-era nuclear bomb tests.
Read more: 22 Powerful Photos Show the Devastating Reality of Flint's Water Crisis
According to the Post, the garbage fire is "only a few thousand feet" from the radioactive waste pile, yet local residents remain concerned EPA regulators aren't doing enough to prevent the blaze from spreading into the Superfund site.
Missouri health officials have discovered increased incidences of "rare cancers" from the nuclear waste site, according to Al-Jazeera, and regulators are unsure what exactly was buried at West Lake due to illegal waste dumping in the 1970s. Some reports have additionally suggested radioactive materials have spread beyond the official confines of West Lake, thanks to improper waste handling techniques.
According to an NPR story from November, the EPA publicly maintains that the fire at the neighboring landfill is not spreading, and even if it were to spread and reach the Superfund site, it would pose little danger. This directly contradicts one of its own reports, which concluded that an underground fire at the Superfund site could potentially release "unhealthy" levels of radon gas and contaminate groundwater with radioactive waste. And consultants hired by the state of Missouri are just as vehement that the blaze is indeed spreading.
Unfortunately, putting out the fire would require extensive excavations that would be "difficult, if not impossible, and would likely increase toxic fumes and the risk of the fire breaking through to the surface," according to a report from St. Louis Public Radio.
The EPA has ordered Bridgeton Landfill operator Republic Services to construct a barrier between the two landfills, but regional agency administrator Mark Hague told the Post it will take up to a year to build. State legislators are pursuing legislation to transfer control of the site from the EPA to the U.S. Army Corps of Engineers, which manages most other nuclear waste sites in the United States.
And despite the hazards, it's drawing some familiar comparisons:
Earlier this month, St. Louis Public Radio reported the St. Louis County health department will begin surveying residents near the fire to determine whether they have higher rates of respiratory ailments, while the EPA has begun conducting groundwater tests.