'American Crime' Stars Connor Jessup and Joey Pollari Talk This Week's Powerful Episode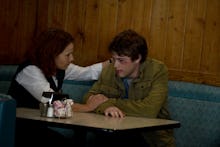 In just the first six episodes of its second season, American Crime took on stories that would prove insurmountable challenges for lesser shows. The fictional crime series presented a male-on-male rape case in an unsensational, authentic, powerful way. It filled the story with beautifully textured characters, including gay teens who live in the same moral shades of gray as any others.
On Wednesday night's episode, the narrative took a bold, audacious new turn. Thanks to the writing, the direction and the impressive ensemble, including young standouts Connor Jessup (protagonist Taylor) and Joey Pollari (accused rapist Eric) this new story was told as elegantly and powerfully as all the others.
(Editor's note: Spoilers ahead for the seventh episode of American Crime.)
American Crime creator John Ridley, who directed Wednesday's episode, keeps story details close to his chest. According to Jessup, cast members receive redacted scripts that only show their scenes. It's a way to basically enforce method acting on set; actors only know as much as their characters would. Additionally, while Ridley's happy to talk about character and motivation with the actors, he doesn't reveal plot details to them ahead of time. 
So it came as quite a shock to Jessup when he opened the script for Wednesday's episode and learned Taylor was going to shoot and kill someone on a school campus.
"We all kind of knew something big was happening in episode seven, because we knew that John was coming back to write and direct it," Jessup told Mic on Friday before the episode aired. "But no one knew the details [until] the script came out, when we were shooting episode six."
Read more: The Depiction of Gay Teens on 'American Crime' Is Unprecedented on TV
Thanks to the script redactions and Ridley not hosting a table read for the full cast, only Jessup and Lili Taylor (who plays Taylor's mom, Anne) knew exactly what happened. "I think there's still some people who don't know exactly what happened," Jessup said. Those members of the cast were likely as floored as fans who watched the episode live Wednesday night.
What makes this story unusual is that, in essence, American Crime is telling the story of a school shooter inside-out. Instead of starting with the shooting, when the perpetrator is cast only through the scraps of information the media can find out about his past, American Crime spent six full episodes showing the audience every nook and cranny of Taylor's life. He wasn't branded with the identity "shooter" from the outset. The audience sympathized and empathized with him.
He spends a day attempting to confront his demons, turning to drugs and nursing wounds from the hate crime he suffered at the hands of several members of the basketball team. Finally, after a hallucinogenic episode and armed with a gun, Taylor makes a hit list:
- Eric, the boy he says raped him
- Kevin, the basketball captain who invited him to the party where he was attacked
- Leslie, the principal of the school that blamed him for his attack
- Wes, the lead perpetrator in the attack viewers saw the beginning of at the end of episode six
Taylor waits in Leslie's office, ready to execute her. Yet Taylor can't go through with it. It's only after Wes grabs him and threatens to kill him if he tells anyone about the hate crime. If anything, in the moments before the shot rings out, Taylor looks terrified.
"There's that long moment ... where we're just looking at each other," Jessup recalled of shooting the scene. "John came up to me and said, 'For a moment, young man, I need you to look at him with — just for a moment — with complete empathy.'" Indeed, the sound drops out and the boys just look at each other for several seconds.
Then the camera pans down. Taylor shot Wes.
Americans live in a time when mass shootings are a near-daily occurrence. Over 70% of Americans think mass shootings are a norm of life now. The choice to build audience sympathy for a school shooter is a remarkably audacious one. It requires nerves of steel and the storytelling skills to match.
"Very few characters in the show are trying to do anything and not do anything because it's the right thing to do," Jessup said. "People are trying to protect their children, their institutions — very few people are acting from malice. ... When you have that zone of grayness, that helps a lot. When new information comes to you, plot twists or whatever, you stop thinking about it as, 'Would Taylor do something this bad?' or 'Would Taylor do something this good?' You start thinking, 'What brings Taylor to this point?' What do I have to do to make it believable and to push him far enough that you feel like he would bring a gun to the school?"
Each moment of the episode plays as naturally as possible. Nothing is heightened or overplayed for sake of drama; the story, American Crime seems to say, is dramatic on its own. When Taylor goes to see his mom at her restaurant, she quickly realizes the shooting she's just been learning about on the news is related to him. She does not scream. She does not cry. She does not yell, "What did you do?"
Instead, Anne asks, "Where is the gun?" She gets everyone out of the restaurant and calls the police. Then, as sirens echo in the background, she stays with him, comforting him as best she can.
"The way that she calmly puts the pieces together — I don't know how any other actor could pull that off like that," Jessup said of Taylor's work. "Lili says this all the time, that people don't react to things the way you think they do. ... People, especially when they're dealing with grief or pain or trauma, they don't react the way TV insists they do."
The choice to build audience sympathy for a school shooter is an audacious one. It requires nerves of steel and storytelling skills to match.
Obviously, the shooting is the story that dominated Wednesday night's episode, but it was hardly the only story. In the same 42-minute timeframe, American Crime also featured a random hookup gone wrong between Eric and an older man he found on a Grindr-esque app. Shot in a single take as the camera pans around the car, the scene turns into an ugly attack that threatens Eric's life. It only adds to the sense of danger that permeates the episode, largely because it's so easy to be sucked up into it.
"It locks the characters in the space," Pollari told Mic in the afternoon before the episode aired. "Every cut, in any cinema or TV show, automatically makes us aware of what we're watching. To shoot it in one take, while Eric is in that car with this older man — it's terrifying. It's a really scary moment for me. But it really gives the sense of moving through this from beginning to end. ... That one take feels like a theater experience."
The long takes have been something of a signature in American Crime's second season, most impressively in a single-take dance sequence from the fifth episode. Ridley has tried a lot of different ideas this season, from said long takes to opening the fourth episode with a slam poem featuring none of the actual characters. It's what Pollari called "content as form," and it's ambitious not just for a network TV series, but for any series.
The upcoming eighth episode continues American Crime's experimental streak by interspersing the story with interviews with both real-life survivors of the Columbine High School massacre and victims and relatives of LGBTQ bullying. In theory, it seems like a nice (if clunky) gesture; in practice, it's a heart-wrenching episode of television that further grounds the fiction of the story in reality. It serves as the perfect pair to episode seven.
There will be 10 episodes this season, the last three of which will draw Taylor's story to a close. Should American Crime return, Ridley would tell a new story with new characters and some returning cast. That "should" is a bit more of a tossup Thursday morning than it was just 24 hours before, however. Wednesday afternoon, the New York Times reported the resignation of ABC entertainment president Paul Lee, with the network quickly introducing replacement Channing Dungey. Lee was a champion of serialized shows like How to Get Away With Murder and Scandal, even renewing American Crime despite low ratings during season one. 
The man who reportedly masterminded Lee's departure from ABC, Disney-ABC Television Group chairman Ben Sherwood, apparently favors more procedural series (think NCIS or Law and Order) over serials. Whether this spells doom for American Crime is unclear, though ratings haven't been better this season than they were last. Without Lee to champion the series, it wouldn't be a surprise if this season is American Crime's last.
Should American Crime find a way back on air, both Pollari and Jessup say they would jump at the chance to be involved once again. "It's been a wonderful experience to do," Pollari said. "If that's where it ends, so be it. But if they want me back, absolutely."
"I'd come back in a second — I'd come back in less than a second," Jessup said. "It's been the best experience of my career, bar none. ... I don't know if the show will get picked up; if it does, I don't know ... if there will be space for me. If there is, little or big, I'm there."
American Crime airs Wednesdays at 10 p.m. Eastern on ABC. The newest five episodes are available on Hulu.