Kanye West Curses Out Taylor Swift in a Rant Caught Backstage on 'SNL'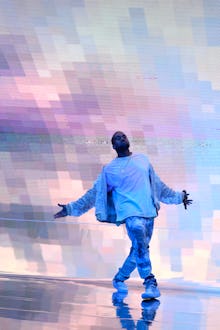 It seems Kanye West's Saturday Night Live performance did not go as smoothly as the world assumed. In audio obtained and published by the New York Post's Page Six, West reportedly cusses out the show's crew for messing with his set design. 
"Don't fuck with me," the voice repeats over and over again, while also throwing some rage at Taylor Swift — whom West recently claimed "still might have sex" with him because he made her famous, on his Life of Pablo track "Famous" — seemingly just for the hell of it.
"Look at that shit, they took my fucking stage offa SNL without asking me," West can supposedly be heard saying. "Now I'm bummed. That and Taylor Swift's fake ass."
He then goes on to claim he's "50% more influential" than "any other human being," including beloved filmmaker Stanley Kubrick, and the album's three Pablos — Pablo Picasso, Paul the Apostle and Pablo Escobar. "By 50% dead or alive, by 50% for the next 1,000 years," he says. "Stanley Kubrick, 'Ye."
"It was like he was having an emotional breakdown," a source told Page Six. "He was calling the crew 'white motherfuckers' and then said he was going to walk out. The only thing that stopped him from actually leaving right then was that nobody had access to the freight elevator. If he'd walked out on the live show, it would have been a disaster. And the whole meltdown was just because of the floor."
The Swift diss comes out of almost nowhere. But it seems it's still on top of his mind.
The two have been quietly feuding ever since the backlash to West's "Famous" lyrics first mounted. Friday morning, after West debuted the track at his album release show, West tweeted that Swift had given the lines her "blessings" and thought they were "funny." However, Swift's representatives gave very different stories.
Swift's Grammy acceptance speech this week suggests she did not find the lines funny in the least. While accepting her award for album of the year Monday, she threw some deftly worded shade toward West.
"As the first woman to win album of the year at the Grammys twice, I want to say to all the young women out there: There are going to be people along the way who will try to undercut your success or take credit for your accomplishments or your fame," Swift said. "But if you just focus on the work and you don't let those people sidetrack you, someday when you get where you're going, you'll look around and you'll know it was you and the people who love you who put you there and that will be the greatest feeling in the world."
Earlier Wednesday, it seemed the West was on the verge of apologizing on Twitter. However, following this new leak, who knows who will have the last word?
Update: A rep for Kanye West has told Rolling Stone that the audio of West's rant was edited and taken out of context. "This audio was secretly recorded while he was venting his frustration in a private moment with his team," the source said. "He found out his stage design was changed and taken apart under the direction of the show's lighting director without anyone's approval."
Feb. 18, 2016, 8:32 a.m. Eastern: This post has been updated.