Lake Street Dive 'Side Pony': Streaming and Download Options for New Album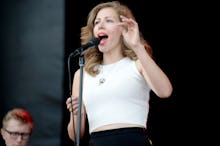 Jeff Kravitz/Getty Images
Boston-born indie band Lake Street Dive will release its fourth and newest studio album, Side Pony, on Friday — but fans can already stream the new music through SoundCloud on the band's website. The new album is a follow-up to the band's 2014 album Bad Self Portraits. Side Pony is available for pre-order on iTunes, Amazon and on the band's website.
Read: Kendrick Lamar Got Unforgivably Snubbed Again at the 2016 Grammy Awards
"We knew that we had a lot more fans than we have ever had before and that we were walking onto a bigger stage with this record. Basically, our initial concept was to do something that pushed us to try new things, something that's a bit of a wild card," Bridget Kearney, the band's bassist, told Rolling Stone in early February. 
In addition to releasing Side Pony, Lake Street Dive will begin a North American and European tour at the end of February. A full list of cities and dates is available on the band's website.
Feb. 18, 2016, 7:47 a.m. Eastern: This story has been updated.