5 Reasons You Should Be Using Ginger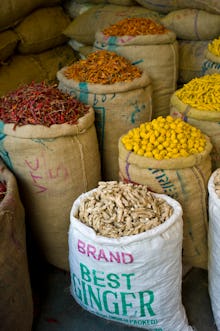 Tim Graham/Getty Images
For centuries, ginger has been widely touted as a treatment for all sorts of ailments, but studies have only begun to reveal the health benefits of the plant. 
According to PBS, ginger root has origins tracing back to "ancient China, where it was commonly used as a medical treatment." Henry VIII, the King of England who ruled at the beginning of the 16th Century, was rumored to have used ginger for medicinal uses, specifically against the plague. Centuries later, ginger is used for stomach pains, digestive issues, nausea and more. 
Read more: What Are the Health Benefits of Turmeric? Here's What Science Says About the Spice
Ginger has anti-inflammatory properties 
Ginger, which has anti-inflammatory properties, can bring relief to aching pains within the body. According to Food Matters, placing ginger essential oil in the bath can work to reduce pain in the joints and muscles. Some studies show that the plant can be effective in reducing symptoms of osteoarthritis, which could lead to severe pain in the joints. In a study that examined the effects of ginger on knee pain in patients that have the disease, it was found that a ginger extract had a "statistically significant effect on reducing symptoms of osteoarthritis."
Ginger may help with menstrual pain
According to Authority Nutrition, ginger appears to have success treating menstrual pain when it is consumed at the beginning of the menstrual cycle. One study, which compared the effects of ginger to the drugs mefenamic acid and ibuprofen, found that the plant was able to reduce pain just as well as the two drugs. In the study, 150 women took 250-milligram capsules of ginger powder four times a day for the first three days of their menstrual cycles. 
Ginger might help treat forms of cancer
Ongoing research appears to suggest that ginger could potentially be a treatment for different forms of cancer, due to [6]-gingerol, an active compound found in ginger that has "anti-cancer properties," an abstract from 2012 read. It also notes, "mechanisms through which these are achieved are largely unclear." 
"The anticancer potential of ginger is well documented and its functional ingredients like gingerols, shogaol, and paradols are the valuable ingredients which can prevent various cancers," another study reads. "This review concludes to favor ginger but some ambiguities necessitate further research before claiming its efficacy." More research is needed, but a 2003 study from the University of Minnesota appeared to find positive effects after using lab mice to examine the usage of ginger on colon cancer. 
Ginger as a treatment for nausea
Best known for its effectiveness at alleviating nausea, ginger is generally used as a remedy to dispel feelings of sickness in the stomach. But a study by the University of Rochester and the National Cancer Institute found that about one-quarter teaspoon of ginger each day could alleviate the effects of chemotherapy-related nausea if used in conjunction with anti-nausea medications, according to CNN. 
"If we can reduce nausea on day one, then patients tend to have reduced nausea throughout treatment," Julie L. Ryan, lead author of the study, told CNN. 
After examining over 600 people, the study found that the participants who received ginger supplements experienced the most decrease in their symptoms of nausea.
According to Everyday Health, 1 gram of ginger 30 minutes to two hours prior to a trip may reduce nausea caused by motion sickness. 
Ginger may help prevent heart disease
According to News Nation, ginger can help lower high levels of low-density lipoproteins. LDL is sometimes known as the "bad" cholesterol because it can "contribute to plaque, a thick, hard deposit that can clog arteries," the American Heart Association states on their official website. 
In Ginger: A Versatile Healing Herb, Satyesh Chandra Pakrashi and Anita Pakrashi write about the positive benefits of ginger, including how dry ginger can improve the circulatory system. "[Dry ginger] is excellent for the circulatory system, useful in diseases of heart and throat and helps increase stamina," the authors state.