Nigerian Children Are Being Starved for Practicing "Witchcraft" — See the Viral Photos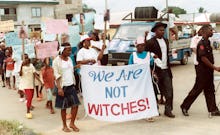 A disturbing trend across sub-Saharan Africa of abusing, ostracizing and sometimes even killing children accused of witchcraft has been brought to light with one Danish humanitarian's Facebook post from Jan. 31.
Anja Ringgren Lovén, who left her job in 2011 to be a relief worker, founded African Children's Aid Education and Development Foundation in 2012, a volunteer-based organization fighting for poverty alleviation in sub-Saharan Africa.
Read more: Boko Haram Kills 86 In Raid on Villages and Refugee Camps
Her viral post from Jan. 31 shows her tending to a 2-year-old boy in Ekeya, Nigeria, who had been abandoned and subsequently starved after he was accused of witchcraft.
The boy, who Lovén named Hope, had spent the preceding eight months surviving off scraps on the street and was "riddled with worms," NZHerald reported. 
After giving the child food and water, the Danish aid worker took him to a local hospital, where he was bathed, given daily blood transfusions and treated for worms.
In her post, Lovén requested assistance for his hospital bills. And days later she posted that she managed to raise 1 million Danish krone (nearly $150,000).
A Feb. 6 post includes a new series of photos, showing a much healthier and happier looking Hope.
A 2010 UNICEF report argued there is a confluence of complex factors that lead to this practice. Sometimes, the report said, abandoning a child and citing "witchcraft" is the result of a parent's inability to care for the child.
Once a child's reputation has been tarnished, however, there is very little that can be done to recover it and reintegration can pose a huge challenge. 
"Children accused of witchcraft are subject to psychological and physical violence, first by family members and their circle of friends, then by church pastors or traditional healers," the report read. "Once accused of witchcraft, children are stigmatized and discriminated for life. ... Children accused of witchcraft may be killed, although more often they are abandoned by their parents and live on the street."
Given social and economic insecurity seem to largely provide the underpinning for this phenomenon, poverty alleviation likely offers the most sustainable solution.
Feb. 18, 10:19 a.m. Eastern: This story has been updated.
Correction: Feb. 18, 2016
Get the five stories that will challenge you to rethink the world by signing up for MicCheck Daily.