Man Undresses in Women's Locker Room in Apparent Protest of Transgender Inclusion Policy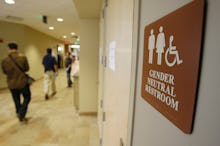 LGBT politics took an unexpected turn in Seattle when a man at the city's public Evans Pool apparently decided to challenge a 2015 ruling by the Washington Human Rights Commission that allows people to use public restrooms consistent with their gender identity, King 5 reported.
According to Seattle Parks and Recreation officials, the incident, which occurred on Feb. 8, began when a man in board shorts went into the facility's women's locker room to change around 5:30 p.m. When pool staff were informed and demanded the man leave, he shot back saying, "the law has changed and I have a right to be here." 
Read More: South Dakota Legislators Might Make Transgender History — Of the Worst Kind
The declaration came as a surprise, as the unidentified man reportedly made no mention of his transgender status at any time before the incident. King 5 reported the man was not arrested and even returned to the locker room later in the evening when young girls were changing.
"This didn't seem like a transgender issue to staff — someone who was 'identifying' as a woman," a Seattle Parks spokesman, David Takami, wrote in a statement given to King 5. "We have guidelines that allow transgender individuals to use restrooms and locker rooms consistent with their gender identity. We want everyone to feel comfortable in our facilities."
Technically, the man committed no crime, with the new commission rules stating that "all covered entities, except school districts or other primary and secondary schools, shall allow individuals the use of gender-segregated facilities — such as restrooms, locker rooms, dressing rooms and homeless shelters — that are consistent with that individual's gender identity."
The incident underscores the pitfalls of a policy that, while well-intentioned, remains vague and subject to abuse. Pool officials told local news they had no protocol for implementing the new policy fairly or safely; Takami told King 5 that if patrons do not self-declare their gender expression beforehand, staff are left to make judgement calls based on appearance.
With same-sex marriage fading the rearview mirror, "bathroom politics" has become a growing cause for LGBT equality advocates. In 2015 Seattle and Philadelphia passed ordinances that called for for single-stall restrooms in public places to be gender-neutral. On the other hand, a similar city ordinance for Houston was struck down in November after a stringing repudiation by Texas voters. As of Tuesday, South Dakota appears to be on the brink of becoming the first U.S. state to expressly forbid transgender students from using school restrooms consistent with their gender identity.
Feb. 18, 9:46 a.m. Eastern: This story has been updated.
Correction: Feb. 18, 2016