Fans React to 'Mob Wives' Star Big Ang's Death From Cancer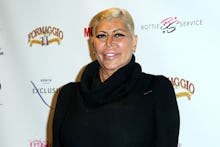 Steve Mack/Getty Images
Reality TV star Angela Raiola, known as "Big Ang" on VH1's Mob Wives, died Thursday after a battle with cancer, her friend Vinnie Medugno confirmed on her official Twitter account around 4:30 a.m. She was a mother of two and grandmother of six.
"It is with sad regret that we inform you that at 3:01 a.m. Angela Raiola peacefully ended her battle with cancer and was called home," Medugno wrote. "She was surrounded by nothing but love from her immediate family and closest friends."
Raiola was first diagnosed with throat and lung cancer last year. She underwent several surgeries and had been in remission a couple of times over the past year before the cancer spread again, NBC reported. 
Medugno also posted an Instagram Thursday honoring Ang's life. "I'm not here for a long time, I'm here for a good time! -Big Ang," he quoted her in the touching caption. "Everything with you was exactly what those words embodied," the caption continued. "I will love you, cherish you, and hold you in my heart wherever I go, and whatever I do."
The TV star opened up about her strenuous battle in an interview with Dr. Oz on Tuesday. "I look at my kids and my grandchildren and I know how much they need me," she said, according to NBC. "Sometimes I feel I'm gonna be fine, and sometimes I just don't think I am."
Fans expressed devastation and love on Twitter:
Correction: Feb. 18, 2016