What Kind of Cancer Did Big Ang Have? 'Mob Wives' Star's Death Shocks Fans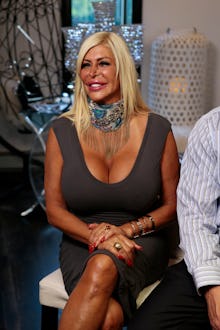 Giovanni Rufino/Getty Images
Beloved reality television star Angela Raiola, better known as Big Ang, died Thursday morning after a monthslong fight against stage 4 brain and lung cancer. Raiola, who is perhaps best known for her role on the VH1 reality show Mob Wives, was 55 years old. The news was confirmed Thursday in a statement from Vinnie Medugno, a friend of Raiola's, posted to Twitter. 
"It is with sad regret that we inform you that at 3:01 a.m. Angela Raiola peacefully ended her battle with cancer, and was called home," the statement reads. "She was surrounded by nothing but love from her immediate family, and closest friends. YOU, (her fans) were some of the most special people in her world, and she loved you immensely." 
"Thank you for your love, prayers and unconditional support of Angela right to the very end," the statement continued. "She truly went out richer than any monetary value could ever amount to. The family asks for privacy, and peace during this most difficult time. In typical Big Ang fashion, we know she would say, 'Love you my babies!'"
Fans shared tweets of love upon learning the news:
According to a GoFundMe page Raiola's sister Janine Detore created to collect donations, Raiola began chemotherapy on Jan. 5, yet the results of a CT scan later that month found the treatment had been ineffective. Before her death was confirmed, false reports surfaced Raiola had already passed away; speaking to Hollywood Life, Raiola's Mob Wives co-star Carla Facciolo debunked the reports. In March, Raiola was diagnosed with throat cancer and had two surgeries; she told People in September, "I'm learning how to swallow again," she says. "I have a phobia of choking. I'm just doing the best I can, taking it day by day." 
Raiola was a mother of two, a grandmother of six and "the friend of many," Detore said in a statement on the GoFundMe page.
In his statement, Medugno added that Raiolo's Twitter page would remain open as a forum to celebrate her memory. On Instagram, he posted a photo of the two together and captioned it, "I'm not here for a long time, I'm here for a good time! -Big Ang."