Is "It's You" About Gigi Hadid? Lyrics to Zayn Malik's New Single and Who It's About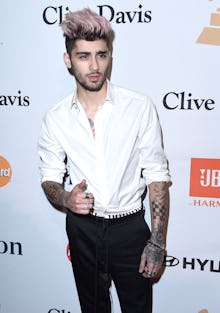 Steve Granitz/Getty Images
Zayn Malik debuted Wednesday his latest single from the forthcoming Mind of Mine, the former One Direction member's first solo studio album, on The Tonight Show Starring Jimmy Fallon. Fans were anticipating Malik to perform his first and recently released single "Pillowtalk," a song about his rumored bae and supermodel Gigi Hadid, but he unveiled "It's You," a heartfelt tribute to the end of a relationship. 
Malik discussed his next album, as well as "It's You," on Beats 1 radio with Zane Lowe. When asked whether "It's You" is an ode to his former fiancee Perrie Edwards, Malik said, "I just felt like I needed to put myself out there on that just because it was a form of therapy for me and it did help get me through some shit," Metro reported Thursday.
Read more: 10 Envious Moments From Zayn Malik's "Pillowtalk" Music Video With Gigi Hadid
"It's You" features a strong R&B influence and a slower beat than Malik's first solo release. It's a much different sound from "Pillowtalk," and Malik flexes his vocal muscle throughout the chorus and hook of the song. But it's certainly not about Hadid — the sad lyrics paint a picture of an ending relationship, likely referring to Malik and Edwards:
"She got, she got, she got/ Her own reason for talking to me/ She don't, she don't, she don't/ Give a fuck about what I need/ And I can't tell you why, because my brain can't equate it/ Tell me your lies, because I just can't face it"
The couple split in 2015, and Malik has been dating Hadid ever since, while preparing for his first solo album release. Mind of Mine comes out March 25, and Malik seems to be enjoying his recent fling, jetting the world to promote his new career (not to mention his incredible new look). Malik seems to really be setting himself up for success, but in "It's You," the musician is reflecting on what might have been:
"I won't, I won't, I won't cover the scar/ I'll let it be, so my silence/ So my silence won't be mistaken for believing/ Am I wrong for wanting us to make it?"
Social media was lit up Wednesday night with #ZAYNonFallon after his performance.
Watch the full performance below: