Watch an Adorable, No-Bullshit Fourth Grader Ask the Honest Fashion Industry Questions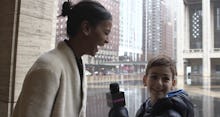 When you're young, life is hard. Teachers force you to memorize all the states in alphabetical order and do math without a calculator. But as we grow up, women are faced with some additional unique hellish experiences, such as learning how to walk in heels. So the question really is: What is worse?
In a video Glamour magazine released Wednesday, we got to find out. For New York Fashion Week, the fashion glossy sent an enterprising fourth grader named Oliver Berman out onto the streets to ask the fashion elite some style questions, and he managed to hit the real honest fashion questions we tend to ask.
The first among them? "What do you think is harder: Walking on heels on the runway or learning long division?"
According to model Liya Kebede, learning long division really is more difficult. (Helpful insight for the young'un, who, given today's embrace of feminine fashions for all genders, may consider heel-wearing in the future.)
Other insights gained in the video by Berman, who Glamour also smartly used as a correspondent last season, are similar in zeroing in on fashion's actual hot topics. While fancy fashion critics tend to mull the runway clothes and designer inspirations, let's be real: So much of the fashion industry is about about impressing, from your outfit to your music taste to your ability to list off designer names. 
Obviously, Berman is already on his way to making it in fashion. He even is already getting his advice from the right places: He learned that moms can actually be totally legit stylists, according to one very fashionable New York woman. 
In fact, fashion blogger extraordinaire Chriselle Lim even told him that he has what it takes to be a model. 
Over the course of the two-minute video, Berman tells us more about fashion than basically any blog could. He asked the real honest questions we want to know — and even made the most serious, sunglasses-laden fashionistas crack a smile. We'll just have to see if he takes Kebede's heel advice to heart.
Check out the full video: