Zayn Malik Premieres "It's You" on Jimmy Fallon With a Litte Help From the Roots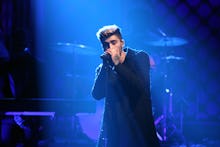 On a victory lap from his previous record-breaking week, former One Directioner-turned-edgy R&B heartthrob Zayn Malik appeared on The Tonight Show Starring Jimmy Fallon to perform Wednesday evening. But instead of opting for the safe win by playing his breakout single "Pillowtalk," which hit No. 1 in 68 countries around the world, he tried something completely different. 
Malik premiered a brand new song, "It's You," a slower, more sensual ballad, backed by the lush instrumentals of Fallon's house band, the Roots.
Read more: Zayn Malik Gave the Shadiest Response When Asked About One Direction's New Album
Zayn had been teasing the potential drop all day on Twitter, which got some fans pretty worked up.
The track's chorus provides an ideal platform for Zayn to present his brilliant falsetto. He draws out the simple titular line, "It's you," all over his range.
But that's not all: It seems Zayn has another surprise coming later this week. On his Twitter account, Malik pinned a retweeted message from Zane Lowe and Mass Appeal Records telling the world to tune into Lowe's Beats 1 show Thursday at 12 p.m. Eastern. Whatever's coming, it's likely going to be big.
Watch the video of Malik's Fallon performance below.