Where Did Kanye West Go to College? Turns out the 'College Dropout' Actually Holds a Ph.D.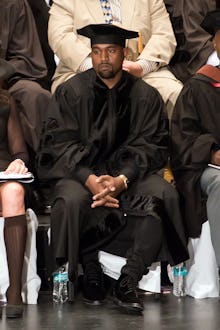 Daniel Boczarski/Getty Images
He might be the world's most famous college dropout, but Kanye West actually holds a doctorate degree  — technically. Kanye West briefly attended both the American Academy of Art and Chicago State University, according to Time. While Yeezy did in fact drop out of school to focus on creating music, the rapper and designer received an honorary doctorate degree last year from the School of the Art Institute of Chicago, in his hometown.
An unusually reserved West took to the podium at the school's graduation ceremony in May 2015 to deliver a five-minute speech. "When I was giving a lecture at Oxford, I brought up this school because when I went on that mission to create in other spaces, apparel, film, performance, it would have been easier if I could have said that I had a degree at the Art Institute of Chicago," West told the crowd, according to the Independent. "Thank you."
Read more: Who's Pablo? The Meaning of 'The Life of Pablo,' Kanye West's Album Title
Ye was honored by the Art Institute with a degree for being "an interdisciplinary artist whose work provokes cultural discourse by reflecting a realism of the street," the ceremony's tickets described, according to the Chicago Tribune. 
The artist picked up his doctorate degree last year with reality TV superstar wife Kim Kardashian-West, who proudly watched West deliver his speech at the ceremony. "Dr. Kanye West!!!!!!!" She tweeted, posting a picture of a smiling West at his graduation. "I'm so proud of you baby and I know your mom would be so proud too!!!!"
"I felt my nerves a bit and I don't feel that feeling a lot," West admitted about attending the graduation ceremony and receiving his honorary degree from the Art Institute, according to the Independent. "The nerves of humility and modesty when being honored, a humanization, a reality, of being recognized, and all I thought as I sit here kinda shaking a little bit, is, I need to get rid of that feeling! I need to not be nervous."
It's certainly understandable why Ye might feel somewhat out of place on stage to pick up a degree rather than to accept an award or drop a new single. Dropping out of school has been an overarching theme throughout much of West's musical career, from albums like The College Dropout to Late Registration, as well as hits like "School Spirit" and "Hey Mama," a 2005 single in which West promises his mother one thing:
Hey Mama/ I know I act a fool but, I promise you I'm going back to school/ I appreciate what you allowed for me/ I just want you to be proud of me
Whether West is deserving of such a distinguished award has been debated. Some feel very adamant the Chicago rapper shouldn't have been able to receive a degree so easily while regular students must spend money and time to receive their degrees. However, according to the Independent, the artist seemed to address the criticism during his acceptance speech. "This honor is gonna make your lives easier, West said. "Two reasons: You don't have to defend me as much, and I'm gonna make all of our lives easier. And it's these Floyd Mayweather belts that are needed to prove what I've been saying my entire life."