Meet Park Cannon, the 24-Year-Old Black, Queer Woman Elected to the Georgia House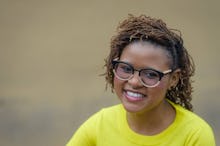 From Amandla Stenberg's Teen Vogue takeover to Beyoncé's "Formation" and beyond, 2016 has already been a year dominated by #BlackGirlMagic. But this overdue representation is extending beyond the entertainment industry and crucially infiltrating realms of political power. 
After winning a runoff election on Tuesday for the Georgia State House's District 58, Park Cannon, 24, will become one of three openly queer women serving in the state's legislature, according to Colorlines. 
Read more: Amandla Stenberg Came Out as Bisexual While Taking Over Teen Vogue's Snapchat
Cannon was working as a women's wellness advocate for a women's health center when former Rep. Simone Bell, the first openly gay black woman to serve in a State House in the United States, encouraged Cannon to replace her, the Georgia Voice reported in December. Bell was particularly drawn to Cannon's background in reproductive rights because she believed it was "what's missing in the chamber and what's missing in the conversations, what's missing in a seat for someone who can actually vote," according to the same report.
Cannon considers herself "a person who is carrying with me at all times genderqueer people, asexual people, transgender individuals," she told the Georgia Voice in December. 
"As a person who is outspoken about myself and outspoken about my truth, I hope to bring healing to people. I hope to bring excitement to our community who is marginalized and underrepresented," Cannon said in the same report.
This goal is particularly crucial given the myriad ways individuals who occupy these identities are still marginalized in the United States. For example, black women earn an average of 64 cents to every white man's dollar, according to a Catalyst report, and a 2014 Gallup poll demonstrated that queer women disproportionately lag behind straight women and gay men in terms of overall well-being, according to the Atlantic.
Beyond her own state, Cannon offers hope in the context of a largely heterosexual, white, male-dominated national political landscape. Of the 104 female members of the 114th U.S. Congress, only 33 are women of color, according to Catalyst, and there are less than 500 openly gay elected officials currently serving in political office across the entire United States, according to a Time report in December.
Cannon's win is just the beginning.
"Last night was a good night," the newly-elected official stated on her Facebook page on Wednesday. "Now the real work begins."
h/t Colorlines