Adele Explains to Ellen DeGeneres What Went Wrong With Her Grammys Performance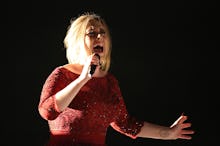 Adele knows her 2016 Grammys performance wasn't great. She knows viewers were confused about what that weird guitar noise was. And she's come to confess the truth to the queen of daytime TV: Ellen DeGeneres.
In a Thursday interview with DeGeneres, Adele attempted to explain what happened during the massively popular songstress's performance of "All I Ask." A piano mic problem marred the performance, which Adele explained was a result of a changeover after a successful sound check.
"The microphones fell onto the piano strings, which is what the guitar noise was," she told DeGeneres. "Some people thought it was Bieber rehearsing, but it wasn't him. We're on great terms. And then it kind of put the whole thing off really."
She apparently had to stop herself from fixing the problem during the performance, too. "I knew where the mic was and I wanted to turn around and lift it up, but I froze," she said. "But I actually felt like it went well."
Read more: Adele's "Hello" Isn't About an Ex-Boyfriend — It's About Herself
In addition to the microphone issue, Adele was noticeably more off-pitch than usual. Adele is nothing if not an impressive vocalist, so hearing her off her game was a surprise. The singer herself credited her emotion for any pitch problems.
"When I'm flat and I'm sharp, I'm just emotional, but it was fine," she said. "I wanted to tell everyone straight away because there seemed to be a lot of confusion as to what it was. I was embarrassed."
Having confessed to DeGeneres, Adele can now begin the process of moving on from her grief — though it seems she's already started. As she told the host, she treated herself to "a burger and a beer" after spending a day crying over the rough performance.
Watch the full interview below.