2016 Oscars: Expert Predictions for This Year's Biggest Awards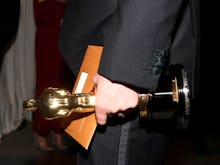 Christopher Polk/Getty Images
The 2016 Academy Awards are less than a fortnight away, and in the fluidity of the awards season, we can't know for sure who will win the coveted awards with absolute certainty (except for Leonardo DiCaprio, apparently). 
Yet with the slew of other movie award shows having come and gone — and the subsequent award winners from the likes of the Screen Actors Guild Awards and the BAFTAs — it's narrowed down the likely candidates. Critics have a better picture than ever painted of this year's potential winners. Here's what the experts are saying. 
Read more: The Oscars' Decision to Diversify Membership Is Groundbreaking, Shocking and Necessary
FiveThirtyEight, the statistics-based venture helmed by Nate Silver, created its own algorithm to predict the Oscars race for the biggest categories. It uses the results of previous award shows, and the historical chances of Academy Award-winning films coming from these awards, as a means to paint a clearer picture of who might win. 
"We pull from press awards and insider awards," Walt Hickey wrote for FiveThirtyEight. "We determine the 25-year rolling success rate of each of the prizes in predicting the eventual Academy Award winner and square that success rate to determine a score for each award." 
For the six biggest categories — best picture, best director, best actor, best actress, best supporting actor and best supporting actress — FiveThirtyEight has up-to-date metrics on its site. Currently, DiCaprio and Brie Larson have the highest odds of winning the best actor and actress Oscars, respectively. 
Conversely, the most interesting and competitive categories are those for supporting actor, supporting actress and picture. Of the three, best supporting actor is the tightest race, with Sylvester Stallone's Creed performance holding a slim lead over Mark Rylance for Bridge of Spies. 
"Outstanding performances by other nominees — restless fact finders played by Mark Ruffalo and Christian Bale, level-headed competence by Mark Rylance and backwoods sociopathy by Tom Hardy — make this a profoundly tough category in which to pick a winner," Hickey wrote.
Looking at the predictions from a less analytical angle, there is still a general agreement for the major categories. With regard to Variety's up-to-date predictions, they have the same predictions with the six major awards as FiveThirtyEight with one exception: best picture. Instead of The Revenant, the publication favors The Big Short to claim the nod. 
Whether it's through analytical data, or just the opinion of experts in the industry, the Oscars awards race isn't impossible to predict. However, these are still ultimately just guesses. We won't know for sure who's taking home gold until Feb. 28.