12 of the Most Heartfelt, Beautiful Beyoncé Songs to Play at Your Wedding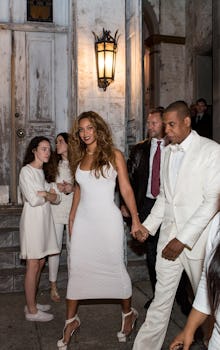 Josh Brasted/Getty Images
Though your friends, family and bridal magazines will try to convince you otherwise, there are only two types of weddings in this world: ones that play Beyoncé, and ones that do not. Listening to the queen of everything's ethereal vocals as you dance with your beau for life will ultimately put the cherry on top of a flawless wedding, so it's important to have a few of Bey's best love songs queued up for the special day. 
Luckily, there's no shortage of Beyoncé songs to choose from for the reception, or even the first dance. From 2003's Dangerously in Love to 2013's self-titled surprise release, each Bey album includes at least one gem that should be required to play at every wedding. Even "Formation" could make for a perfect choreographed number by the bridesmaids.
Read more: We Turned Beyoncé Lyrics Into Inspirational Memes. You're Welcome.
Though it's no easy feat to choose from the plethora of brilliant wedding songs Beyoncé has bestowed upon mankind, here are just some of the queen's best songs to play on that fateful day.
From earlier in her career:
"Crazy in Love" featuring Jay Z
"Baby Boy" featuring Sean Paul
"Signs" featuring Missy Elliot
From the later 2000s:
"Upgrade U" featuring Jay Z
"Sweet Dreams"
"Halo"
From recent years:
"Love on Top"
"XO"
"Countdown"
For the first dance:
"Satellites"
"Smash Into You"
"Dangerously In Love 2"