Florida Cannabis Act 2016: Where State Stands on Legalizing Marijuana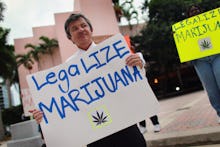 A bill that broadens the use of medical marijuana for patients who are suffering from terminal conditions, passed the Florida House on Thursday, WESH Orlando reports. The bill, proposed by Rep. Matt Gaetz, was approved 99-16. The bill also includes further regulations for organizations, patients and physicians who use marijuana, and are "covered by the 2014 Compassionate Medical Cannabis Act".    
This is good news for the marijuana advocacy group Sensible Florida, who recently ended their Regulate Florida campaign after acknowledging that the group will not be able to acquire the more than 650,000 signatures needed to qualify for the Nov. 8 ballot by February.  
"We suspended the campaign in 2016 but we're shooting for 2018," Hiedi Handford, spokeswoman for the campaign, told Mic. 
The Florida Cannabis Act sought to amend the Florida constitution, in order to legalize and regulate the use of marijuana. The initiative would have made possession of marijuana legal, and would have gave Floridans the ability to grow, process, and sell cannabis, essentially legalizing marijuana and regulating the drug similarly to alcohol. 
Read more:  The Booming Marijuana Industry Is Still Too White
"Due to time constraints, it has become obvious we will not be able to collect the needed number of verifiable petitions in time to qualify for the 2016 election," Regulate Florida Chairman Michael Minardi said in a statement. "However, it is because of all your hard work and the show of strength of our supporters that it is clear we can pass regulated adult use in Florida.
"We are are happy to announce we are making a few minor changes to the petition language, have some soft commitments for funding, and we will be doing everything we can to make the 2018 ballot," Minardi continued, promising a new petition in March. 
However, residents of the Sunshine State will have the opportunity to vote on medical marijuana. 
United for Care, a marijuana advocacy organization, has drafted a petition to put the medical use of marijuana back on the ballot on Nov. 8. The petition, according to the Associated Press, has "692,981 certified voter signatures, nearly 10,000 more than it needed to put the proposed amendment on the ballot."
"It's official: medical marijuana is back on the ballot as Amendment 2," John Morgan, chairman of United for Care said in a statement. "The revised, 2016 amendment is tighter, clearer, and it has already resulted in unanimous approval by the Florida Supreme Court, no opposition from Attorney General Pam Bondi, and hundreds of thousands of new supporters."
A bill to allow terminally-ill Florida residents with less than a year to live access to medical marijuana was approved by a state House committee. "If you have a year left to live, you're going to try whatever you think may be helpful," Rep. Shawn Harrison (R-Tampa) told the Miami Herald. "Frankly, you're not going to care whether it's legal or not." The bill still needs to be approved by the full House. 
March 3, 2016, 2:43 p.m. Eastern: This story has been updated.