This Nerf Automatic Rifle Is the Ultimate Second Amendment Loophole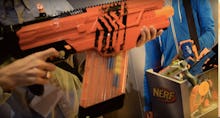 Automatic weapons: now fun for the whole family!
Nerf, the iconic toy manufacturer known for its foam ammo and the weapons to shoot it, has just outdone itself with the Nerf Rival Khaos MXVI-4000. The fully automatic blaster comes with a clip capable of holding 40 rounds of balls that can reach speeds of 68 mph, the Verge reported. 
Read more: The Very Curious Case of This Toy Fighter Jet
Hasbro announced the toy, Nerf's first foray into fully automatic "weapons," during the 2016 Toy Fair in New York City. It will hit stores this fall for $69.99, according to the Verge.
So what does firing a fully automatic Nerf gun look like? 
Well, admittedly, it looks kind of cool:
While the Nerf ammo reportedly doesn't leave any permanent damage, the move is curious as the United States remains embroiled in a contentious debate about gun violence and gun control, and automatic and semi-automatic weapons are at the center of that debate.
Many activists on the left are adamant that the proliferation of such weapons have led to a dangerous rise in mass shootings across the country. In 2015, the U.S. averaged more than one mass shooting per day. In many cases, the U.S. can rack up more shooting deaths in days than other countries can in years, and even decades.   
At least a handful of Twitter user saw a problem with the toy:
But a Twitter scan suggested more users were more trigger happy than not:
And, while surely innocuous, one tweet gives reason for momentary pause. Writes @whiterabbit216, "I found a fully automatic nerf gun online that holds 40 rounds and fires them up to 68mph that I want for work in the office."
In any event, even the most stringent proposed gun control bills do not call for the control of Nerf guns. So the new blaster will probably be coming to a toy store near you.
It'll pair perfectly with your Nerf tank — ahem, "Battle Racer."
Check out a demonstration of the gun here: