Is Kim Kardashian West Armenian? What the Reality Star Has Said About Her Heritage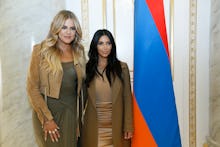 Tigran Mehrabyan/AP
Kim Kardashian West puts much of her life on public display — from her family to her wardrobe to her wedding — but what about her Armenian heritage? It turns out that the Keeping Up With the Kardashians star and professional famous person has been vocal about her Armenian background, and about raising awareness regarding Armenian history.
Back in April, Kardashian West penned an essay for Time magazine in which she reflected on her Armenian background and her late father, Robert Kardashian, who was an attorney. "When we grew up, all my father did was talk about our heritage," Kardashian West said. "It was such a big part of our life: We'd eat Armenian food, we would listen to stories — my dad was really outspoken about our history."
Read: Kim Kardashian Flew Across the World for Churros and She DGAF If You Judge Her for It
In the essay, Kardashian West discussed her family history — including her great-great-grandparents' move to the United States shortly before the Armenian genocide of 1915, during which 1.5 million Armenians living in the collapsing Ottoman Empire were killed. "Had they not escaped, we wouldn't be here," Kardashian West wrote in Time.
In April, Kardashian West, along with her sister Khloé and her husband Kanye West and daughter North, took a trip to Armenia to observe the centennial of the genocide, during which they met with Armenian Prime Minister Hovik Abrahamyan, reported ABC News.
Kardashian West called for Turkey to acknowledge the Armenian genocide, saying, "It's time for Turkey to recognize it ... To not do so is an act of disrespect." She also called on President Barack Obama to specifically use the word genocide in describing the mass killings, something he has not yet done.
"The Kardashian family trip to Armenia has helped shine a global spotlight on Armenia and the Armenian genocide — sharing the historical facts and the need for justice for that crime with millions," Elizabeth Chouldjian, communications director of the Armenian National Committee of America, told ABC News in April. "The Kardashians have helped strike a powerful blow at Turkey's campaign of genocide denial."
So will Kardashian West raise her children to share her pride in the family's Armenian heritage? Apparently she plans to do so.
"I'm half Armenian, but I grew up with a such a strong sense of my Armenian identity, and I want my daughter to have the same," Kardashian West wrote in Time. "My great-great-grandparents were so brave to move their whole family. I'll honor them by passing their memory down to my daughter."
Correction: Feb. 18, 2016