Turns Out the Oregon Ranchers Were Pooping All Over Native American Artifacts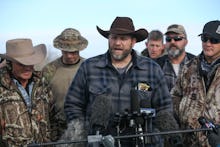 When nature calls, you must answer, but please don't do so by pooping all over sacred ground used by Native Americans for hundreds of years.
After their 41-day occupation of the Malheur Wildlife Refuge in Oregon ended last week, a group of right-wing ranchers left behind a scene so rancid that one tribal leader described it, simply, as "disgusting."
According to a report filed by United States Attorney Billy J. Williams on Tuesday, the armed occupiers dug two trenches through the 188,000-acre preserve, including one that was obviously used as a latrine.
"Occupiers appear to have excavated two large trenches and an improvised road on or adjacent to grounds containing sensitive artifacts," the report read. "At least one of these trenches contains human feces."
The Malheur preserve sits on the traditional territory of the Northern Paiute bands of indigenous people. It is filled with Paiute artifacts — including arrowheads and the remains of tribal ancestors buried in the ground. 
Now, it is also filled with poop. But this is not the first time the occupiers have butted heads with local Natives: The same militia came under fire from the nearby Burns Paiute tribe in January, when now-deceased occupier LaVoy Finicum posted a video online of himself rummaging through boxes of Paiute artifacts.
"I feel disrespected that they're even out there," Jarvis Kennedy, a tribal council member for the Burns Paiute, told the Guardian after seeing the video. "It's like me going through their drawers at their house."
In response to the new report about latrine use at the site, Kennedy told the Indian Country Today Media Network that pooping on sacred ground is gross, but not particularly out of step with the ranchers' general attitude.
"That whole area is an artifact area," he said. "This is their mindset — not really caring about anything. For them to do that in that area is so disgusting."
It's especially disrespectful considering the history of the area. Long before it was a nature reserve, the space that currently houses the Malheur refuge was part of the 1.8 million-acre Malheur Indian Reservation, which existed from 1872 to 1878 before tribal members were forcibly removed to Washington state after years of fighting with local whites.
On Jan. 2, an armed group of ranchers led by Ammon Bundy — whose father, Cliven Bundy, made headlines in 2014 when he engaged federal law enforcement officers in a standoff over cattle grazing land in Nevada — took over Malheur and refused to leave until local property owners were given control of the refuge.
The ranchers' demands were not met. On Feb. 11, the last of the occupiers surrendered to authorities.
Representatives of the Burns Paiute tribe have since expressed gratitude that the occupiers are gone, and were not given control of land that was not theirs and had been stolen from indigenous people to begin with. "So thankful for all the Native nations — all the groups out there that supported us through this whole thing," Charlotte Roderique, a Burns Paiute tribal chairwoman, told ICTMN. "Knowing that other people cared has meant a lot."
The FBI's Art Crimes Team and Burns Paiute archaeologists are now investigating the site to assess the damage. Please pray for them, and all the poop they now have to wade through.
h/t Indian Country Today Media Network