The Captured Project Is Challenging the System and Giving Prisoners a Voice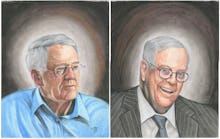 They're the mugshots that never were.
New York City artists Jeff Greenspan and Andrew Tider wanted to provoke people into reconsidering the criminal justice system in terms of those who've successfully evaded it — the corporate execs committing "crimes masquerading as commerce," and those who haven't — prison inmates. Thus was born the Captured Project.
The tagline: "People in prison drawing people who should be."
"It started when we were watching an environmental documentary and heard about these companies that have done egregious things to the environment," Tider told Mic. "No one really went to jail, and they always managed to slip away from the grasp of the criminal justice system by just paying their way out."
Read more: The Horrifying Truth of Life in Solitary Confinement, From People Who Lived It
Greenspan and Tider considered how a prisoner might cope with the idea that corrupt corporate executives enjoyed freedom while he or she sat behind bars. The pair wanted to find a way to connect the two groups of people, and after some brainstorming Greenspan and Tider determined the concept would be best expressed through art.
Mobilizing the talent wasn't easy, said Tider. "We reached out to a warden and the warden was like 'Hell no — I don't have any particular interest in giving inmates a political voice.'"
So the two scoured eBay, where inmates frequently sell their art while serving out their sentences. From there, they got in touch with the inmates' family and friends and the project soon took on a life of its own.
"I think all people want to be heard and want to be connected, and it's really easy to feel completely disconnected when you're sent away," Greenspan told Mic. "Maybe your family doesn't visit, or call or write to you, but you have a TV and you can see what passes as acceptable behavior in a company's board room."
"These people aren't denying that they did what they did, but a lot of people feel that the system they're bound by is an unjust one." 
Among those taken to task by the Captured Project include present and former CEOs of Walmart, BP Oil, Coca-Cola and Koch Industries, whose collective rap sheet, alleges the project, consists of offenses such as bribery, tax evasion, child slavery and manslaughter. Those offenses are presented side-by-side with those of their respective portraitist. 
Even JPay, the company Greenspan and Tider used to pay each artist, got its own take down. When the duo discovered the company took a portion of each $100 payment for processing fees, JPay CEO Ryan Shapiro got his very own portrait of shame. (They also tacked on an additional $30 to the prisoners' payments to account for the discrepancy.)  
The inmates — who are locked up for everything from retail theft to murder — have expressed to Tider how the project has inspired them. "Some of the inmates said, 'This was the first time I've ever made an honest dollar;' 'This is the first time I've been doing something using my talent;' 'I've been behind bars for x amount of years, and doing something that could have a positive outcome is worthwhile;' 'I'm incredibly thrilled my work is going to be seen by someone outside prison walls,'" he said.
"These people aren't denying that they did what they did," he said, "but I think a lot of people feel that the system they're bound by is an unjust one." 
"For whatever reason, a reaction we've been getting is, 'An inmate did this?' as if they aren't people and they don't have extraordinary talents," said Greenspan. "Next they think, 'Why is someone so talented behind bars?' People's minds short circuit: 'Wait a minute, this prisoner did this? Wait a minute, this CEO did this?'" 
The collection of portraits is now available as a limited-edition book, whose proceeds go to organizations supporting the Bernie Sanders campaign. Greenspan and Tider said they hope the project inspires conversations about the justice system and ethical spending.
Read more: We Asked Facial Symmetry Experts About the Science Behind a "Punchable Face"
"Bringing a little artistry, theater or comedy can go a long way in these discussions," said Greenspan. "People sometimes approach an idea with their arms crossed — when you're defensive you can't be open to any other ideas or realities. If we can get people to drop their arms and their psychological and emotional defenses, there's an opportunity for growth and change."
Scroll for more from the Captured Project. See all the portraits and their backstories here.