This Is What Happens When a Cosmetic Brand Posts a Photo of a Black Woman's Lips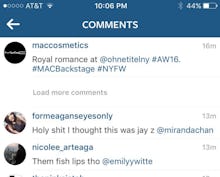 Instagram
During New York Fashion Week on Wednesday, cosmetics brand Mac posted a close-up picture to Instagram of an African-American runway model's lips, intending to showcase the brand's lipstick. 
Some social media users, however, were not interested in the product. 
"Wtf r these lips," one user commented. "Holy shit I thought this was Jay Z," another wrote. 
Some commenters came to the model's defense to counter what they perceived were racist comments about her lips. 
The photo sparked an ongoing thread about natural beauty and race. 
"Beauty is in the eye of the beholder," one user wrote. "I'm thankful that there isn't one standard of beauty."
"It amazes how these people can turn a post that was simply advertising lipstick into a whole race issue," another added. "Her lips make a perfect heart," someone else wrote. "Beautiful."
The model, 19 year-old Maryse Kye, responded to both the critical and supportive comments in a now-deleted Instagram post Thursday. "As I read the comments below this picture Felt so insecure and a bit embarrassed as I just wrapped up fashion week a time period that is tough on models especially black models as we encounter the harsh reality of the fashion world," she said. "But I kept reading (not sure why tbh) and saw so much love and support from strangers that made me smile :)." 
"If I survived middle school in America, I can get over this," she added.
Read more: The Big Problem With Our Fascination With Kylie Jenner's Lips That Nobody Is Talking About