As Fans Await Frank Ocean's New Album, Here's What Made the R&B Singer a Viral Success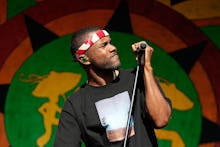 Tyler Kaufman/Getty Images
When Frank Ocean burst onto the scene with Channel Orange in 2012, his R&B stylings and incredible vocals came crashing ashore and introduced the world to a new sound. The singer-songwriter seemed to have appeared out of thin air, stealing the hearts of listeners worldwide, most of whom wondered where Ocean came from in the first place. 
"I booked my first studio at like 12 or 13," Ocean, real name Christopher Edwin Breaux, reminisced in an interview with Billboard about his rise to fame. "Somewhere in that season of my life, singing along with the radio became me wanting to be on radio, you know. And writing Langston Hughes replica poems became me wanting to write like Stevie Wonder. My dad had been a singer and keyboardist. So my mom was like, 'You're going to follow that bum? Maybe you should just go to law school.'"
Read more: Is Frank Ocean Planning An Adele-Like Comeback?
Against his mother's wishes, Ocean stuck to his passion and pursued music as a full time career. That isn't to say the artist didn't have some side gigs to pay the bills as he focused on songwriting. "I had jobs, too — 11 jobs," Ocean told Billboard. "I worked at Kinko's, Fatburger, Subway — I was a sandwich artist — and I was a claims processor at Allstate Insurance."
His first mixtape Nostalgia, Ultra was a hit in 2011, but his debut album Channel Orange was the critical success Ocean needed to take his career to the next level. Before his first two releases, Ocean was ghost-writing songs in Los Angeles for the likes of Justin Bieber and Beyoncé before releasing his own music under Def Jam's music label, according to Biography.com.
A six-week trip Ocean planned with his former girlfriend in Los Angeles became a six-year staycation for the musician, who worked every single day on producing music in the studio for himself and other artists. It wasn't until his music was heard by producers during an exclusive listening party for one of his friends when Ocean became heavily enveloped into the music industry.
"There were producers there, and they said, 'You should come up to the studio and write.' So I did," Ocean told Billboard. "I'd sit in those rooms for hours. But I wouldn't write any line that was as good as the lines being written in the rooms next to me. It was just like: I had to elevate. I was looking at it like an athlete then — like I just wanted to be better than everybody else. I hadn't gone through anything emotionally yet. I had never been in love. I had never been heartbroken. When that happened, that's really what changed everything. That turned me into a real artist."
Ocean has gained a loyal group of fans in his short time in the music limelight, even with the singer keeping a low profile on social media. The artist has been taking a break from the public eye for some time now, canceling performances and missing an album release date he himself promised. Whether the musician is planning an Adele-like comeback or just taking a vacation from music is still unclear, but one thing is clear: Ocean and his music are here to stay.