Has a Horror Movie Won an Oscar for Best Picture? The Answer May Surprise You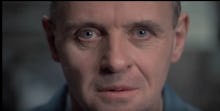 YouTube
Whenever Oscar season begins, moviegoers can expect to be inundated with dramas and period pieces. After all, some variation of a drama, in most years, will win the coveted Academy Award for best picture. 
When they don't, it draws a lot of media attention — think 2004, when fantasy film (and threequel) The Lord of the Rings: The Return of the King nabbed best picture among other awards. 
While other genres are represented with relative consistency at Hollywood's most prestigious awards show, one has consistently slipped through the cracks: horror movies. In fact, only one horror flick has ever won a best picture Oscar: The Silence of the Lambs. Very few others have even been nominated. Though the genre certainly produces some of the worst films of all time (Troll 2, Leprechaun: Back 2 tha Hood) several horror movies, both in the decades past and in recent memory, deserve more academy praise in retrospect. 
Read more: 25 Years After 'Silence of the Lambs', We're Still Figuring Out How to Portray Psychopaths
In 1992, The Silence of the Lambs became the first — and still only — horror movie to win an Oscar for best picture. As horror films go, the buildup is very tense throughout, with the third act featuring FBI agent Clarice Starling (Jodie Foster) being pursued by Buffalo Bill (Ted Levine) in the dark among its many noteworthy, nerve-wracking sequences.
The film "lurks about the exquisite edge of horror, before finally leaping into an unholy maw of bloody bones and self-awareness," Rita Kempley wrote for the Washington Post in 1991.
Yet Oscar voters have otherwise remained allergic to horror. The one notable exception to this was best picture nominee The Exorcist in 1974 — a timeless, disturbing masterpiece for the genre. Others nominees teetering on the edge of a horror, but lean more toward being a thriller, include Rebecca, Gaslight, Spellbound, The Sixth Sense and, most recently, Black Swan. 
The Academy Awards have nominated other horror films for awards in other categories, yet the genre-defining classics like Psycho, The Shining, Halloween, Rosemary's Baby and Alien weren't best picture nominees during their respective years. 
In recent years, horror films have also been ignored in the awards season, even though we've been treated to eventual classics in the genre. Most recently, modern horror classic It Follows failed to earn a nod. The movie takes old-school, thematic tropes but sets them in the present — an intense, skin-crawling score and John Carpenter-esque use of space to build tension. It also has a deeper meaning under all its creepiness — something the best horror movies should have. 
Yet it did not receive a single Oscar nomination. Though at this point, that doesn't come as a surprise. 
"The film's low budget and lack of star wattage are two obvious strikes against it, as far as the academy is concerned," Clark Collis wrote for Entertainment Weekly. "But the real list of reasons why It Follows never stood a chance with the academy pretty much begins and ends with the fact that it is a horror film. The academy has always preferred to keep the terror genre hidden in the attic come Oscar night." 
Horror movie buffs have their own theories as to why the genre is often ignored at the awards show. "The academy wants their nominations to contain a complete movie package of 'emotional intensity,'" Derek Dufour wrote for Horror Film Central. "They want movies that make an impact ... horror, as a whole, delivers shocks first and foremost. And in a weird way, fear is a very shallow type of emotion." 
Perhaps the academy will change its tune with horror films in the future, when the right film presents itself. Yet one has to wonder what lengths the genre would have to go to in order to earn Oscars praise. It Follows doesn't stand alone — other horror films have deserved best picture nominations in years past. Oscar voters need to open their eyes when it comes to a lot of different kinds of nominees, and it needs to address those. In turn, it wouldn't hurt them to cast their net a little wider in terms of genre as well.