Tyson Factory Workers Average One Amputation a Month So You Can Have Your Chicken Nuggets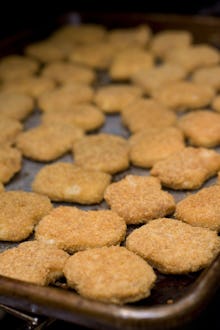 After the Occupational Safety and Health Administration mandated in January 2015 that all work-related injuries be reported to their office, George Washington University professor Celeste Monforton saw an opportunity. 
Empowered by the legislation, Monforton decided to follow a single company and see what she could find out. She settled on Tyson Foods — one of the world's largest producers of poultry — and filed a series of Freedom of Information Act requests to the OSHA. 
The results were, in a word, painful.
In a post on ScienceBlogs, Monforton detailed some of the 34 injuries sustained by Tyson factory workers, 17 of which involved amputations. In 2015, Tyson employees lost fingers, tips of fingers, thumbs and, in one case, both hands, averaging one amputation a month.
"Skinners. Band saws. Wing saws. Hide grippers," Monforton wrote. "The names of these tools tell just part of the story of why these amputations occurred." 
Unbelievably, in official reports of these incidents submitted to the OHSA, Tyson officials admit its employees are not properly trained to operate such dangerous equipment. 
Of the two amputations that occurred in a Texas poultry-processing plant, a report reads, "Employees are exposed to 'caught between' hazards when operating forklifts due to lack of training."
The meat industry has come under fire for its toll on the environment, the use of factory farming and a lack of transparency surrounding the origin of its products. Last year, Clear Food analyzed 345 hotdogs from 75 different brands and found human DNA in 2% of the samples (two-thirds of which were veggie dogs). 
And suddenly the source of that DNA seems a bit clearer.
h/t Buzzfeed