What Happened to Kanye West's Mother? The Story Behind Donda West's Tragic Death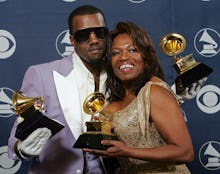 Reed Saxon/AP
Donda West, Kanye West's mother, has been the inspiration behind several of his career highlights: multiple albums, singles like "Hey Mama" and "Only One," his multidiscipline design and content company DONDA — the list goes on and on. However, the 58-year-old former chairwoman of Chicago State University's English department died Nov. 10, 2007, the day after receiving multiple cosmetic surgeries.
What exactly caused her death is still a controversial subject even Ye tries to steer clear from. "If I had never moved to L.A. she'd be alive," West told Q magazine in an article published in June. "I don't want to go far into it because it will bring me to tears."
Read more: Who's Pablo? The Meaning of 'The Life of Pablo,' Kanye West's Album Title
According to the coroner's report, an autopsy found "multiple post-operative factors could have played a role in the death," People magazine reported. West was receiving a number of surgeries the day before her death by Jan Adams, a plastic surgeon who now adamantly denies any wrongdoing in West's passing. 
Adams walked off a CNN interview shortly after her death, where he was expected to defend his practice and reveal what might have happened after West received surgery. Inside Edition reported West's lawyers told him not to speak just minutes before and later reported Adams said West was given "20 Vicodin tabs in less than 20 hours" following her surgery. 
West insisted she be placed in the care of her nephew, a certified nurse, following her liposuction, a tummy tuck and breast reduction surgery, despite Adams recommending she stay in the hospital's care. According to Adams, West's nephew, (Ye's cousin) Stephan Scoggins, was attending an event instead of caring for her at the time of her death. "What's Donda West's problem? Her nurse wasn't there," Adams told Inside Edition. "Her nurse was gone to a baby shower rather than taking care of his aunt."
Though it isn't entirely clear what led to West's passing, there are some theories. Adams says West was lying flat on her back when she died — a position which can lead to choking in patients who recently went under the knife. "This lady shouldn't be dead," Adams told Inside Edition. "All he had to do was sit her up."
Other experts with knowledge of West's death think otherwise, however. Andre Aboolian, a Beverly Hills surgeon who told CNN he refused to operate on West, said Ye's mother might have had a heart condition that may have led to her post-surgery death. "I always insist on a medical clearance for women over 40, and in this instance it was particularly important because of a condition she had that I felt could have led to a heart attack," Aboolian told CNN, according to MTV. 
Despite her passing, West remains a major influence throughout her son's recent endeavors, including the recently released third edition of his fashion line Yeezy Season 3 as well as his latest album, The Life of Pablo. As his biggest fan, she watched her son rise from being a wannabe music producer to one of the biggest names in the industry.