Viral Star Brendan Jordan Just Came Out as a Member of the Transgender Community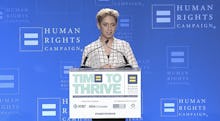 The first time you saw Brendan Jordan, he struck poses and fierce dance moves while a gaggle of kids stood behind him. He captivated the camera and America. The video of his dancing has been endlessly memed and viewed more than 4 million times. 
At HRC Foundation's Time to Thrive Conference Sunday, he came out as a member of the transgender community. There, Jordan retold the story of his mom driving him and his sister to the grand opening of a mall near their town, where he was caught voguing to Lady Gaga's "Applause" live on camera by a television crew. 
Jordan quickly took his act of voguing on the road, appearing on several television shows. 
Jordan said that after the success of his video, he was able to be a voice for his generation, and then he used that platform to make an important announcement. 
"Like most teenagers, I'm still figuring it out," he said. "I'm starting to label as one, or as part, of the trans community." 
"I can't really label it, because, you know, some days, my more feminine side comes out — the 'she.' Some other days I don't feel like putting on my fabulous mask, and the 'he' comes out, and I'm totally OK with that." 
Jordan said that he has no idea who he will be, or what his identity will be, 10 years in the future, but he likes the "limitless" feeling of his gender. Jordan said that he goes by the pronouns "he" or "she." 
Jordan was at the conference to introduce Andreja Pejic, the first openly transgender person to be the face of a makeup brand. Pejic is currently readying the release of a documentary about her transition. 
Jordan joins not only a long list of celebrities who have recently revealed their transgender identities, including Caitlyn Jenner, but also an increasingly long list of young celebrities who are not being held in by the confines of gender or sexuality — like gender-fluid Jaden Smith or bisexual Amandla Stenberg.