Hozier's New Video Sends a Powerful Message About Domestic Abuse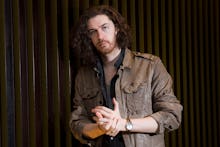 Hozier isn't afraid of tackling deep and challenging issues with his quiet pop ballads and videos. The video for his breakout hit "Take Me to Church" cast a critical eye toward the anti-gay protests that swept Russia in 2013 and 2014 and helped spark an international conversation around homophobia. Now, the singer-songwriter is hoping his latest video will do the same for domestic abuse.
Released the day before Valentine's day, Hozier's "Cherry Wine" offers a startlingly normalized portrait of what domestic abuse often looks like within the home. It doesn't have the stomach-turning brutality of Lady Gaga's "Til It Happens to You" or the thrilling action sequences of Sam Hunt's "Take Your Time." Instead, Hozier depicts the quiet, private fallout that often accompanies abuse of this nature. It shows a woman (played by Oscar nominee Saoirse Ronan) suffering in silence, covering her bruises with a thick concealer.
The song's easy guitar work and soothing vocals coax the listener into a sense of calm. But when one realize what the lyrics are actually referring to — "Open hand or closed fist would be fine/ The blood is rare and sweet as cherry wine" — it takes a much darker turn.
"Domestic violence is an ongoing issue in our society, the statistics of which are shocking and the effects of which damage whole families, communities and span generations," Hozier wrote on his website while sharing the video. "With the song 'Cherry Wine,' I tried to get across the difficulty of coming to terms with and facing up to domestic violence and the dynamic of an abusive relationship." 
The statistics are haunting. According to the National Coalition Against Domestic Violence, a woman is assaulted or beaten every nine seconds in the U.S. Factor men into the equation and the number increases to around 20 people per minute, and 10 million over over the course of a year. Hozier has shared several others on his Instagram and Twitter accounts using the hashtag #FaceUpToDomesticViolence.
All proceeds from this single will be donated to a series of international domestic abuse charity organizations. Hozier's site also offers links to support resources for victims in 23 countries. Watch the full video below, and download on iTunes.