Where Is Nicki Minaj From? Here's Where the Famous Rapper Was Born and Raised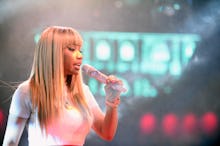 Bryan Steffy/Getty Images
Known for her fierce advocacy for feminism and race and even fiercer raps, Nicki Minaj is easily one of today's top hip-hop artists. Her debut album Pink Friday peaked at No. 1 on the Billboard 200 in 2011, as did her follow-up version Pink Friday: Roman Reloaded in 2012. Her most recent album The Pinkprint, which came out last year, landed just shy of that at No. 2.
But Minaj's giant and well-deserved presence often shadows her past. In 1982, Minaj was born as Onika Maraj in Trinidad, the New York Times reported. She was raised by her grandmother for two years while her parents went to the United States to start a better life, she told MTV in her documentary My Time Now.
Eventually and to her dismay, a young Minaj joined her parents in Jamaica, Queens in New York. "I thought it was gonna be like a castle," she said in the documentary, according to MTV. "Like white picket fence, like a fairy tale. I got off the plane and it was cold. I remember the smell. I could always remember the smell when I got out of the airport of the snow, and I had never seen snow."
Read more: Nicki Minaj Went on a Feminist, Body-Positive Twitter Rant Addressing Her Haters
Her upbringing was difficult, as her father fell to a crack addiction, which resulted in him abusing the family — he once tried to burn down the house while her mother was inside, according to the Times. 
Still, Minaj followed her creative pursuits, studying theater at LaGuardia High School, the well-known performing arts school depicted in the film Fame, on the Upper West Side. There, she studied acting and was allegedly turned down for singing, the Boombox reported. "Nicki, with her theater background and ability to take on a range of accents, is extremely well suited to the way that pop music is made today, when the artist is a vocal actor not asked to say something that's profound but rather play a role in a song that someone else has written," said John Seabrook, author of The Song Machine: Inside the Hit Factory, according to the Times. 
For money, Minaj waitressed at Red Lobster and sang the choruses on songs of little-known rappers, the Times reported. She began pursuing rap more intensely, eventually being dubbed Nicki Minaj by producer Big Fendi. By 2009, Lil Wayne signed her to his Young Money label.
"At one point you had to sell a few kilos to be considered a credible rapper," she told Rolling Stone in 2010. "But now it's like Drake and I are embracing the fact that we went to school, we love acting, we love theater, and that's OK — and it's especially good for the black community to know that's OK, that's embraced."
Although Minaj has gone international, most of her family still live in New York, according to the Fader.