Shia LaBeouf Asks Callers to "Touch My Soul" in New Experimental Art Project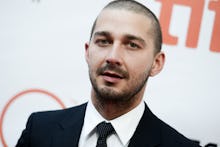 Richard Shotwell/AP
After binge-watching all his films in an experiential art project in November, actor Shia LaBeouf continued his theatrics with a lesser-known project between Dec. 10 and Dec. 13. The project, which was titled #TouchMySoul, happened at the Foundation for Art and Creative Technology in Liverpool, U.K. During the course of four days, LaBeouf, joined by artist collaborators Nastja Säde Rönkkö and Luke Turner, staged a phonathon during which the trio asked callers to pick up the phone and "touch their souls." 
FACT has now made a ten-minute-long video of the project available, and it's currently streaming on Vimeo. 
Read more: All of Shia LaBeouf's Bizarre Performance Art, in One Timeline
"We're more connected than ever before," reads a description of the project from the artists, which was shared on Vimeo. 
"Able to interact with friends, public figures and even foes over the internet each day, what impact is this having on how we understand our relationships with those around us, and the ways our emotional cores are configured? #TouchMySoul asks us how we can truly connect with another person across the networks, what this feels like, and how we can be moved by such an encounter."
During the four-day-long project, the group took a total of 1,089 phone calls as viewers cycled through to watch — though audiences were only able to hear one side of the conversation. While many callers were disbelieving or excitable about getting through to LaBeouf's crew, not everyone who phoned in had positive things to say about the project.
"Hi you've reached, LaBeouf, Ronkko and Turner," LaBeouf answered one call, "Can you touch my soul?"
"You don't think you should use your reputation to make a bigger change in the world opposed to making a social media stunt," asked a nameless caller on the other line, who, by way of response, LaBeouf presented with a "can you touch my soul?" 
"I suggest that instead of sitting on the phone talking to people, asking them to touch you, you make a difference and you touch someone else who needs it more," continued the caller.
When asked how someone might touch someone else, the caller dove deeper into his critique. "You've got millions of people following you," he said. "Why don't you start a trend trying to aid other people? There's loads of people in the world struggling." LaBeouf rebuffed by suggesting people need listening to, and implied that's what was the project, in part, was achieving. 
Yet perhaps one heartwarming moment helped to lend a bit of meaning to the abstract project. At one point during the performance, LaBeouf and his collaborators connected with an unnamed woman in Liverpool who is the mother of a disabled young boy named Jamie. Over the phone, his mother explains that Jamie is half-deaf.
"They said he'd never talk or walk," said Jamie's mother, switching between tears and joy at the sound of Jamie's voice. Yet on the line, and after hearing Jamie, LaBeouf readily confessed they'd touched his soul.
To conclude the experiential performance, Rönkkö tattooed "YOU. NOW. WOW" on LaBeouf's forearm. For more on art from the trio, head here.