Manny Pacquiao Continues to Spread His Homophobic Message — Even After His Apology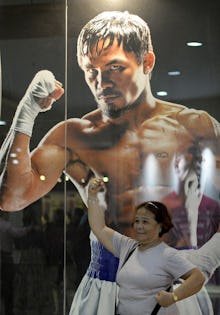 Filipino boxing superstar Manny Pacquiao — known for his well-timed jabs in the ring — is rapidly proving himself to be equally dogged in his fight against members of the LGBT community. But in this case, his timing is less than optimal.
Just hours after he was dumped by longtime sponsor Nike on Wednesday, Pacquiao posted a photo to Instagram with a Bible quotation from Leviticus in the caption which calls for homosexuals to be put to death. The post was taken down, but not before Filipino news organization ABS-CBN News could get a screen grab and post it to Twitter.
Read more: The Pope Just Said Donald Trump "Is Not Christian" — And Trump Is Firing Back
"If a man has sexual relations with a man as one does with a woman, both of them have done what is detestable. They are to be put to death; their blood will be on their own heads." In the hours before the post was deleted, it racked up more than 18,000 likes.
The entire episode began after the boxer appeared on a Philippine television show and said that gay people were "worse than animals." 
"The animals are better. They know how to distinguish male from female," the boxer said, according to TMZ. "If we approve [of] male on male, female on female, then man is worse than animals."
Though Pacquiao apologized, his latest post casts significant doubt on the sincerity of his contrition, and Nike, which called his statements "abhorrent" is not likely to come knocking anytime soon.
Call it a chagrinstagram.