Where Is It Legal to Grow Marijuana? The States That Have Green-Lighted Home Cultivation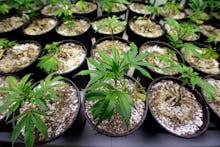 Elaine Thompson/AP
Marijuana is legal in 23 states within the United States. But don't run out and buy a carload of soil and exhaust fans just yet: Whether or not home cultivation is legal varies by state, and recreational marijuana is only allowed in four states. 
And yet the pot economy is a booming one, so green-thumbed readers could be in luck some years down the line. The movement to legalize marijuana is gaining traction nationwide, and depending on the outcome of the 2016 presidential election, it could well be that the government becomes far friendlier to weed in coming years. For now, though, best to err on the side of caution when planting the home garden.
Read more: Here's a Map of Every State and Their Marijuana Laws
According to NORML, it's legal to grow medical marijuana in the following states, although each has its own specific stipulations surrounding amounts, proximity of cultivation site to a dispensary, number of plants and other qualifiers.
· Alaska 
· Arizona 
· California
· Colorado
· Hawaii
· Maine
· Massachusetts
· Michigan
· Montana
· Nevada
· New Mexico
· Oregon
· Rhode Island
· Vermont
· Washington