FKA Twigs Releases Gorgeous New Song "Good to Love"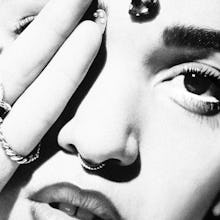 Alexandra Hogan
FKA twigs just released "Good to Love," her first studio recording released after 2015's critically acclaimed EP M3L155X — her third, after 2012's EP1 and 2013's EP2, as well as her first release since her 2014 full-length debut, LP1. Pitchfork reports a live version of the song premiered during her Soundtrack 7 residency at the Manchester International Festival — her series of performances, emphasizing body movements and vogue-ing that eventually filtered into the corresponding visuals of M3L155X, particularly "glass and Patron."
Read more: FKA Twigs Doesn't Feel the Need to Join Taylor Swift's "Squad"
FKA twigs tweeted a YouTube link to the visual, with the caption "it's good to love" and a link to her website, where fans can purchase the new single. According to Pitchfork, the single's artwork was shot by photographer Alexandra Hogan.
Produced by FKA twigs and Grammy Award-winning Rick Nowels, "Good to Love" is a relatively straightforward and melodic ballad, a departure from her previous releases, which were largely avant-garde amalgamations of trip hop, alternative R&B and art pop, and hinged on discordance and distortions.
In the self-directed black and white music video, FKA twigs writhes around a bed intercut with close-up reaction shots of her face. The simplicity of the music video reflects the sentiments of the song's lyrics: "My skin's aching sore from friction past/ Touch me softly make our kisses last" before the lengthy and ruminating chorus:
It's not your fault that I'm loved to my limit
Watch and listen to "Good to Love" below: