Rapper TI Releases New Song "Money Talk"— When Is He Releasing 'Da Dime Trap' Album?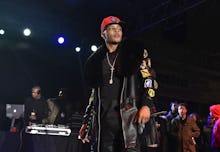 Paras Griffin/Getty Images
The self-proclaimed "King of the South" is back with a new single, "Money Talk." DJ Whoo Kid and DJ MLK debuted the track on the Shade 45 radio station Tuesday morning, according to HotNewHipHop. The Atlanta native gets back to his old ways of rapping about money and living his lavish lifestyle, to remind the game that he's still the King.
"All I see is haters in my rearview/ Millions in my windshield, got a clear view/ I trained myself, go deaf for a broke nigga/ That way when you're talkin' I don't hear you, listen"
Read more:  TI New Album 2015: Release Date Info and Guest Artists for 'The Dime Trap
The song is available for streaming on Soundcloud and Tidal. 
The song may appear on T.I.'s upcoming album, The Dime Trap. "Having just exited my deal at Columbia, I was a rogue artist, busting creativity, just waiting to put music in the marketplace," T.I. told Hits Daily Double. "So while I'm sorting out my next situation, I'm blessed enough to be able to control my destiny and put music out as quickly as I want to, and was able to release a TIP album, which I had wanted to do for a long time."
Source: Soundcloud
The Dime Trap will include a collaboration with former N.W.A. member Dr. Dre, T.I. told Rolling Stone in an interview. But the new album might include a few verses from rapper Jay Z, after T.I teased fans with a picture of himself and the New York native on Instagram. 
"The three young kings seen in this photo came together for one reason. Can u guess?" TI wrote in the caption. "Go ahead, guess. Clue: 3 words, 10 letters. I'll wait.  Answer: Da Dime Trap."
The Dime Trap still has no formal release date.